Conveyance and storage systems
Conveyance and storage systems
AUTRAN VANGUARD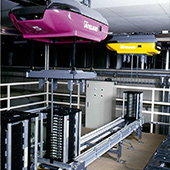 AUTRAN VANGUARD is a monorail type automatic conveyor system that makes effective use of celling spaces. This fast-running system features a variety of layouts depending on the article, including a hanging design, which results in a compact layout for the whole system.
Features
Variety of layouts.
Fast running speed, requiring fewer vehicles in the system.
Suitable for spaces that require cleaning, such as IT and food plants.
Document Storage System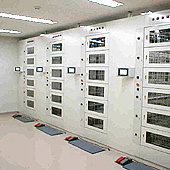 We have developed a system that accurately, safely, and securely manages documents while requiring only a few workers, along with shortened time and smaller space.
Features
This document storage system utilizes a computer system and automatic rotary racks (Pack-U-Veyor) that operate in tandem with each other. The picking section has doors with an automatic unlocking device, in order to improve security.