The Outlander PHEV incorporates the Tsubaki eLINK EV Power System
2014/12/26
The Outlander PHEV, a plug-in hybrid vehicle from Mitsubishi Motors Corporation, incorporates the Tsubaki eLINK EV Power System allowing the battery power to be shared with buildings and facilities.
Tsubakimoto Chain Co., Ltd. (Head Office, Kita-ku, Osaka, President: Isamu Osa) introduced the Tsubaki eLINK* EV Power System in 2013. Widely adopted mainly in public facilities through the vehicle-to-home (V2H) rapid charging connector, this system enables electric vehicles (EV) to share power with a building. The eLINK EV power system can thus establish a power network with a building or factory through a bi-directional connection (via a V2H device). Now, Mitsubishi Motors Corporation has achieved an industry first by enabling the Outlander PHEV* plug-in hybrid vehicle to create a shared power supply for household use when connected via the V2H system, thus enabling many more people to use the eLINK EV power system.
*The engine of the Outlander PHEV will not operate while the vehicle is connected via the V2H system.
"eLINK" is a registered trademark of Tsubakimoto Chain.
"Outlander PHEV" is a registered trademark of Mitsubishi Motors Corporation.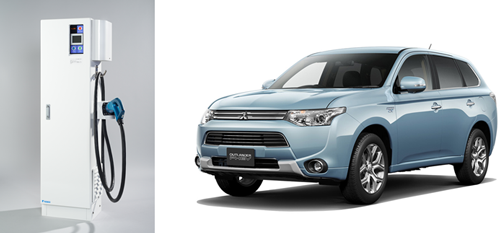 Tsubaki eLINK EV Power System and Mitsubishi Motors' Outlander PHEV
The Tsubaki eLINK EV Power System is a grid-connectable system with integrated bi-directional inverter that allows AC power supply from a V2H-compatible EV via the eLINK. This system provides power control over the supply of power to a facility and smart charging of the EV according to specific settings for supply rate and charging time.
Note: Developed through a state subsidy from the "Promotion Project to Develop Charging Infrastructure for Next-generation Vehicles" applicable to target devices
For more information on the Outlander PHEV, see the Mitsubishi Motors press release: Home-to-Vehicle Charging/Vehicle-to-Home Power Supply with Outlander PHEV
Features
The feed is available in two drive modes: emergency and normal

Emergency mode (during power failure): It can be used as an emergency power supply. Power can be delivered from the EV through the Tsubaki eLINK to a distribution panel. As a result, lighting, television, and electronic and computing devices that normally draw power from the home can be used even during a power outage.
Normal mode: This interconnectable system can provide power from the EV to supplement the power supply in order to reduce peak power demand during periods of power restriction.

Communication with a building Energy Management System allows monitoring (visualization) and remote operation (power control).
Specifications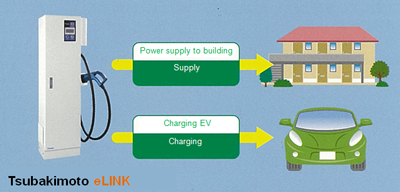 Power supply

Voltage: Single 3-wire 200 VAC
Frequency: 50/60 Hz
Output: 5 kW (at a power factor of 1.0) with no reverse power flow (Isolated from the grid when providing emergency power)

Charging

Battery voltage: Less than 450 VDC
Output: 4.5 kW
Applications
Ideal for providing emergency power during an outage and for cutting peak power consumption of various facilities. Applicable to public facilities (such as municipalities) condominiums, public welfare facilities, nursing homes, office buildings and commercial facilities.
Customers
Yokosuka Administrative Center, ward offices and branches in the city of Kawasaki and elsewhere
Price and delivery time
Contact us for an estimate based on your circumstances.
*This new product meets our eco evaluation criteria.