New leakproof design Axia Motor for small lightweight conveyor drives
2017/03/14
100th Anniversary Model: An optimal next-generation geared motor for driving small, lightweight conveyors
On April 1, 2017, Tsubakimoto Chain Co. (President: Yasushi Ohara, Head Office: Kita-ku, Osaka) introduces the 100th anniversary model of its Axia Motor™. This right-angle, hollow-shaft geared motor now boasts minimal risk of grease leaks, a major concern with gear reducers.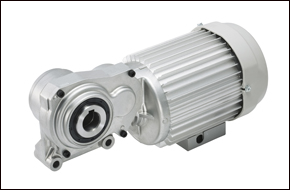 Axia Motor™ TC Series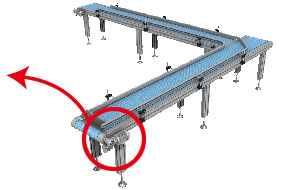 For driving modular chain conveyors in lightweight conveyance applications
Small, light-load conveyors are widely used by beverage makers, bread bakers, and other food processing industries. More recently, the rapid growth in Internet merchandisers has sparked the opening of new logistics centers and has rapidly increased demand for geared motors, which are used in vast quantities as drive sources in the logistics sector and required to achieve easy handling and operability and eliminate grease leaks.
Tsubakimoto Chain's new model of Axia Motor™ was developed to respond to these market trends and challenges. This right-angle, hollow-shaft geared motor introduces several innovations, with a completely redesigned structure that transcends the conventional design while achieving significant cost reductions and introducing a new mechanism that eliminates grease leaks. For driving small, light-load conveyors, the Axia Motor™ offers performance that is unrivaled in the industry.

Note: This new product meets our voluntary eco assessment criteria.
Features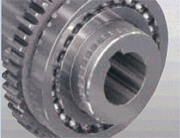 Excellent cost-performance
The following innovations provide significant cost reductions.

Output shaft and gears are integrated.
Lean-design gear case minimizes post-processing.
Motor features ideal design for small, light-load conveyance.
Simplified grease seal incorporates our new leakproof mechanism.

Compact, lightweight design for easy installation
The Axia Motor™ features a compact gear case thanks to its two-stage gear structure. This results in a more compact conveyor drive unit. Because the hollow shaft is mounted directly on the drive shaft of the geared motor, no chain, sprocket or other power transmission parts are required. The associated maintenance of such parts is also eliminated.
In addition to the standard 25-mm diameter hollow shaft, an optional 30-mm bore diameter is available to provide compatibility with a broad range of drive shafts .
Eliminates grease leaks
The leakproof structure has the following features to eliminate grease leaks.

(i) The gear teeth are coated with an innovative high-adhesion grease that takes a new approach to gear lubrication.
(ii) A pocket mechanism (patent pending) contains the grease in the gear unit.

Environment-friendly
The Axia Motor™ is an eco-friendly product that complies with the RoHS Directive restricting the use of hazardous substances.
Lubrication
Drive unit for small, light-load conveyors
Available models
Capacities: 0.1 kW, 0.2 kW, 0.4 kW without brake
Reduction ratios: 10, 20, 30, 40, 60 (For 0.4 kW models: 10, 20, 30)
Bore diameter: 25 mm (30-mm option available)
Lead time
1 week
Sales forecast
FY 2017: 400 million JPY; FY 2020: 1 billion JPY
Release date
April 1, 2017