Introducing Tsubaki's Smart Conveyor Chain - Advanced Models of Our Large Conveyor Chains
2017/06/01
Introducing Tsubaki's 100th Anniversary Models of Heavy Duty Conveyor Chain now available in DTA Specification and ATA Specification
On June 1, Tsubakimoto Chain Co., Ltd. (President: Yasushi Ohara; Headquarters: Kita-ku, Osaka) introduced two advanced high-performance models of its Large Conveyor Chain (DTA Specification and ATA Specification). These models offer improved wear resistance and increased allowable load.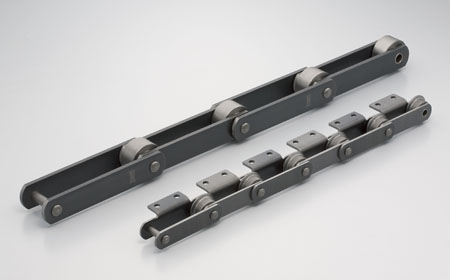 Heavy-Duty Conveyor Chain in DTA Specification

Note: This new product meets our voluntary eco assessment criteria.
Smart Conveyor Chain
Tsubakimoto Chain updated its Smart Conveyor Chain product category for its centennial. The product concept is to "provide customers with solutions through elemental and applied technologies" and to "allow customers to optimally select and use high-quality chains."
Our conventional conveyor chains have been available in 12 types offering various combinations of component materials and heat treatments. To make it easier for customers to select the appropriate items, we classified these new products into three categories: four basic models, from which are derived industry-specific products and products with specialized functions.
We have also changed the selection method to permit selection of "allowable load," as is the case with our other chains. As a result, the allowable load of the chain is clarified, and customers can easily select products suited to their specific applications.
Introducing our "Advanced Models"
Tsubakimoto is introducing four basic models categorized as general-purpose (DT Specification), heavy duty (AT Specification), and environment-resistant types (GS, SS Series). In addition, we are adding advanced models with high-performance series to each of these basic types.
We are scheduled to introduce an Advanced Model of our general-purpose type (DT Specification) as the DTA Specification and an Advanced Model of our heavy duty type (AT Specification) as the ATA Specification. In October 2017, we will introduce two environment-resistant Advanced Models Series*.
*The environment-resistant Advanced Models (GSA Specification and SSA Specification) are intended to provide improved wear resistance and increased maximum allowable load without compromising resistance to corrosion.
Conveyor Chain, DTA Specification
Features
The new product with the DTA Specification is a more advanced version of the basic model with the DT Specification, which is a general-purpose type. We reconsidered the materials and processing methods used for the parts and tripled the wear resistance between bushings and rollers compared to the DT Specification.

Target size
8 sizes (RF03–RF36-ton size)
Price
Price quoted when order placed
Lead time
About 3 weeks (with standard attachments)
Sales forecast
¥12 million/month
Applications
For horizontal and inclined conveyance of heavy objects such as industrial waste and molds for large household appliances
Conveyor Chain, ATA Specification
Features
The AT Specification is a "heavy duty" type with a maximum allowable load about twice that of the DT Specification. The ATA Specification of this new product incorporates parts made with improved materials and processing methods and has double the wear resistance between bushings and rollers, 1.5 times the wear elongation life, and 1.2 times the maximum allowable load compared to the AT Specification.


Target size
6 sizes (RF08–RF36-ton size)
Price
Price quoted when order placed
Lead time
3 weeks to 1 month (differs by size and attachment)
Sales forecast
¥5 million/month
Applications
For conveying in environments with loads exceeding the AT Specification, such as foundry transportation and automobile parts supply lines