Message from the Management
Toward a Global Tsubaki
In April 1999, the Tsubaki Group developed the Tsubaki Mission Statement, stating our commitment in the motto "Let's provide the best value to our customers, and strive to be a global leader." Since then, guided by this motto, the entire Group has promoted its business activities in the areas of power transmission and materials handling. Today, the Group has grown into a corporate network with over 7,500 employees working in 24 countries around the world.
In 2017, the Tsubaki Group will celebrate its 100th anniversary.
To ensure sustained growth as a manufacturer into the next 100 years, we developed the "Long-term Vision 2020," aiming for fulfillment in FYE2021. In FYE2015, we began focusing on the "Mid-term Management Plan 2016" practical action plan, and this year marks the final year of that plan.
By shifting our corporate culture to be more market-focused, we strive to continuously contribute to social development by providing products and services that accurately accommodate customers' potential needs .
Despite never-ending changes in the business environment, some things in the Tsubaki Group remain constant: our basic dedication to customer satisfaction, and our commitment to quality manufacturing. With the highest priority on safety, quality and compliance, Tsubaki strives to be a company where employees can immerse themselves in work that is challenging and rewarding. At the same time, we are committed to growing continuously in the global market, with the spirit of challenge in each and every employee as a driving force.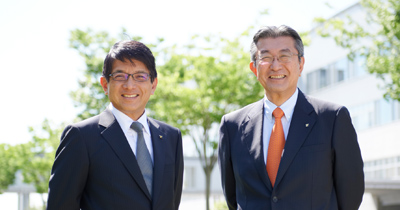 TSUBAKIMOTO CHAIN CO.

Isamu Osa
Chairman and CEO
Representative Director

Yasushi Ohara
President and COO
Representative Director


Click here to see our "Long-term Vision 2020" and "Mid-term Management Plan 2016"