Cement Industry
Tsubaki Examples of Use by Industry and Application
Cement Industry

Drive Applications
Tsubaki have solutions for power transmission in cement industry.
G8 Series Drive Chain

The G8 Series is a superior drive chain developed utilizing TSUBAKI's 100 years of manufacturing expertise.
RS Roller Chain G8 (Standard Drive Chain)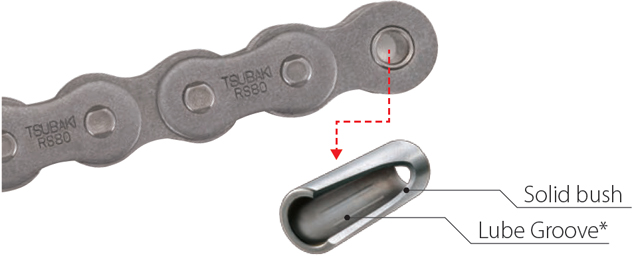 Economical and Long Life
TSUBAKI's standard RS G8 Roller Chain uses a seamless solid bushing developed by advanced TSUBAKI engineering and processing.
TSUBAKI's patented lube groove technology in our precision solid bushings retain lubrication and provide superior wear life.
Lube grooves available for RS80-RS140 only. (RS16B-RS28B for BS/DIN standard)
Super (Heavy Duty) Drive Chains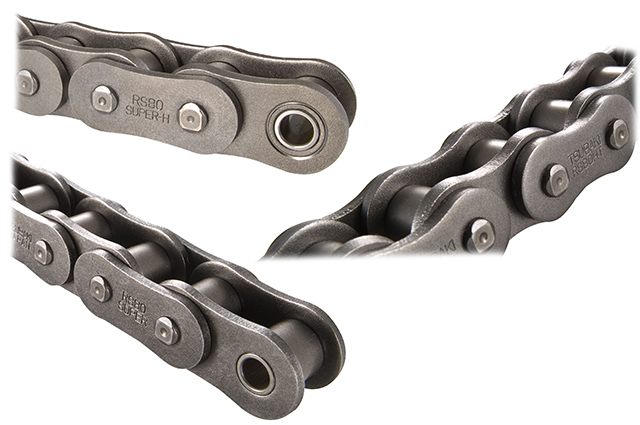 For Heavy Duty Transmission
TSUBAKI offers a variety of heavy duty and super chains to provide users with a higher maximum allowable load, shock absorption, fatigue strength and tensile strength than standard RS roller chains.
Super Chain Performance comparison with RS Roller Chain

With RS Roller Chain as benchmark (100)
Available sizes : RS80 – RS240, up to sextuple strand
Surface Treated NEPTUNE CHAIN ®
Out Standing Corrosion Resistance
TSUBAKI's NEPTUNE CHAIN combines uniquely developed base and resin coatings for superior corrosion and chemical resistance against water and alkalis.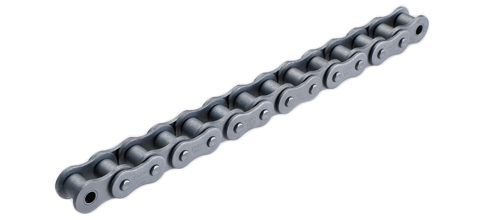 In-house salt water spray test results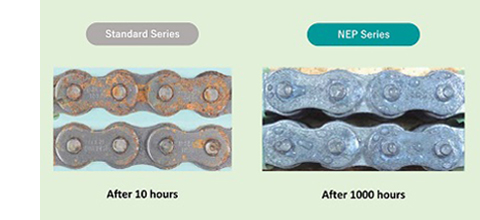 Drive Chain titan ™ Series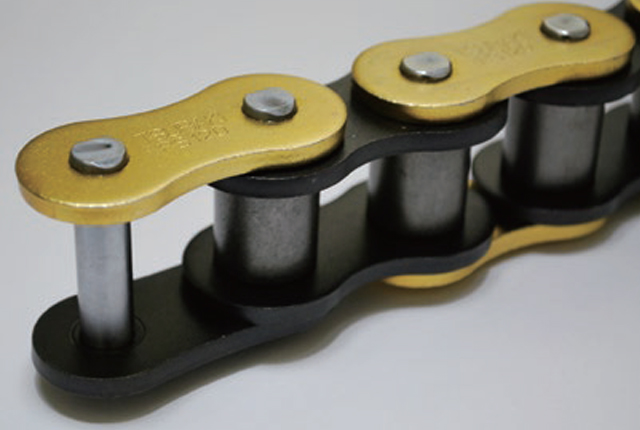 Superior Wear Life in High Speed and Harsh Condition
The titan Chain integrates the latest advancements from TSUBAKI's research and development to increase the wear life of roller chains in high speed and harsh environments.
Our titan chain incorporates 4 best features of our standard ANSI chain coupled with new and unique features to outperform other extended life chains.
Special Coated Pins

Zinc Coated Pin Link Plates and Black Oxide Roller Link Plates

Solid Lube Groove Bushes

Ring-Coined Connecting Links