Cement Industry
Tsubaki Examples of Use by Industry and Application
Cement Industry

Bucket Elevator
Variety of bucket elevators are used in cement industry for the vertical conveying of bulk materials.
Cam Clutch BS Series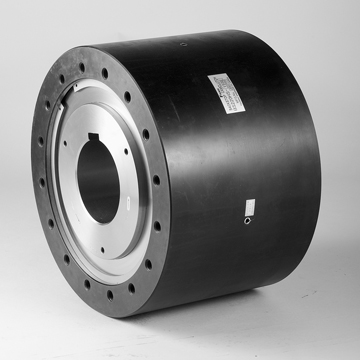 TSUBAKI BS-F and BS-HS Series Exclusively used in backstop applications for conveyors. They offer significantly increased maximum overrunning speed (low speed) and allowable torque.
The BS-F series could also be interchanged with your current Cam Clutch because it's dimensions are compatible.
Cam Clutch BS Series Video
ONE-TOUCH INSPECTION DOOR
®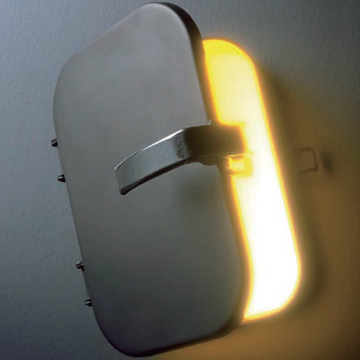 ONE-TOUCH INSPECTION DOOR is a dust and rain tight inspection and service door for conveyors, as well as processing and handling equipment. These pre-fabricated units are ready to-go for ease of use on the jobsite.
Once in place, ONE-TOUCH INSPECTION DOOR® allows for quick and simple inspection without the need for special tools: just lift the lever! No bolts to loosen and no covers to misplace. One touch is all it takes...it's that simple.
Main features
Durable and trouble-free
Dust and rain tight
Easy to open Easy to install
Patented Design
FB Series Conveyor Chain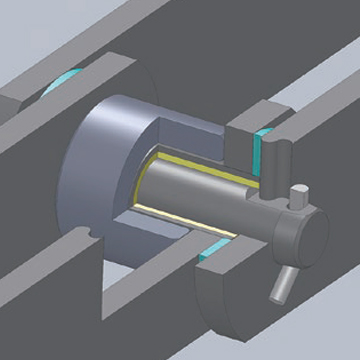 A solid lubricant is bonded between pin and bush, and an O ring is attached between the links to prevent the conveyed material from entering the link mechanism. At the same time, it retains the solid lubricant in place.
This design suppresses wear between the pin and bushing (which contributes to pitch elongation), thus doubling the service life.
Thanks to the solid lubricant ,bucket elevators can now feature low-noise operation with an average noise reduction of about 2dB.
Main features
Superior service life compared to conventional components
Low-noise operation (average 2dB reduction)
workhorse
®

Series Conveyor Chain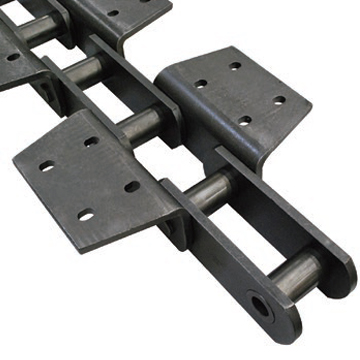 TSUBAKI workhorse elevator chains are specifically designed for use within aggressive bulk material handling environments with harsh fine particulates such as cement or lime.
Main features
Ultimate Strength
Unparalleled Toughness and Wear resistance
sj3
®

Series Sealed Joint Conveyor Chain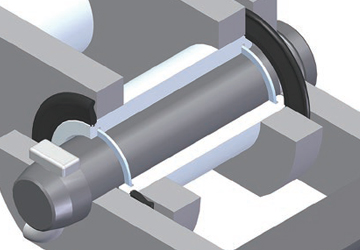 Utilizes a unique combination of three distinct seals to create an innovative labyrinth structure that effectively hinders the infiltration of foreign matter, without compromising any strength or dynamic performance.
Main features
1. Extended Bushing Barrier Seal
2. Polymer Wide Face Seal
3. Stainless Steel Internal Ring Seal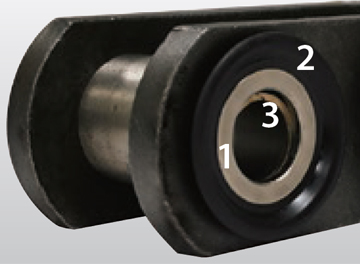 Internal Take-up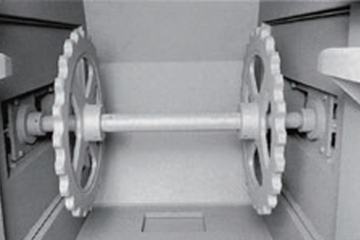 TSUBAKI Internal Take-up keeps the factory environment clean by preventing powdery materials from spilling from the casings.
This take-up utilizes the weight of the tail mechanism to provide automatic tensioning. The take-up components are housed in the tail casing and are completely enclosed, however they are easily accessible for inspection and maintenance.
Sprockets for Large Size Conveyor Chain
Replaceable Sprocket Blades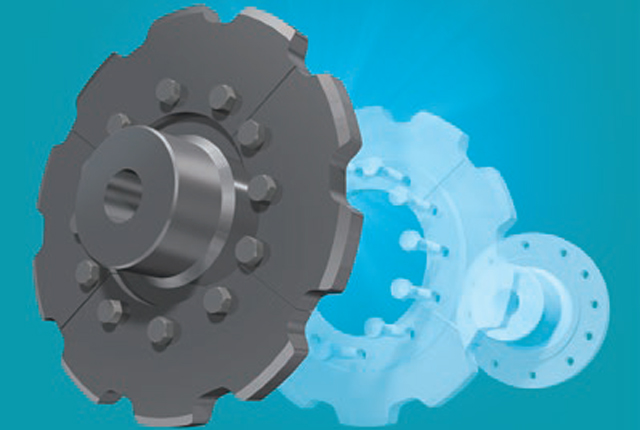 TSUBAKI also offers a line-up of sprockets where just the teeth can be replaced, which can reduce the massive replacement costs and labor when sprockets need replacing.
We can also deliver sprockets already assembled onto their shafts.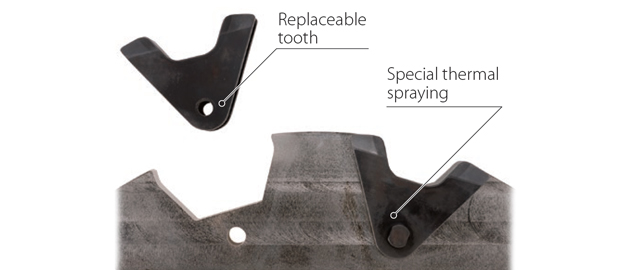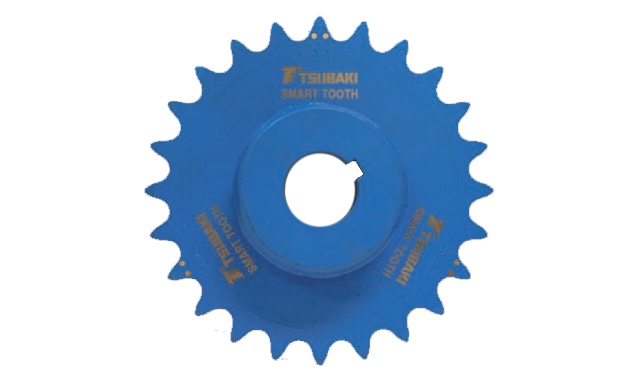 TSUBAKI offers a variety of heavy duty and super chains to provide users with a higher maximum allowable load, shock absorption, fatigue strength and tensile strength than standard RS roller chains.
Comparison – New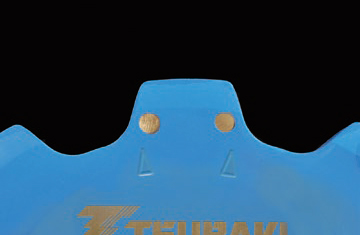 Worn Sprocket