You'll find Tsubaki know-how and technical strength at work in every section of the papermaking process
Papermaking
Woody Biomass Power Generation
Applications in the Woody Biomass Power Generation Equipment
You'll find many Tsubaki products used even in woody biomass power generation, where wood chips and discarded construction material are burned to generate electricity.

Horizontal and Lateral Conveyance --LC Flow
LC Flow is an all-in-one conveyor that conveys powder and grain from horizontally to vertically, or from horizontally to an incline, by using the mutual friction they each possess.
Benefits

Compact and economical
Flexibility in feed
Uses the ideal conveyor chain
Inspection and maintenance are a snap
Dust and water resistant design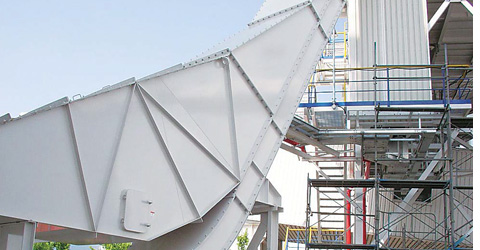 Manufactured and sold by Tsubakimoto Bulk Systems Corp.