You'll find Tsubaki know-how and technical strength at work in every section of the papermaking process
Papermaking
Conveying Areas
Applications in Conveying Areas
In addition to its conveyor chains and linear actuators, Tsubaki offers the best solution for the varying conveyance needs of our customers through our technical prowess with material handling.

Large Size Conveyor Chain -Bearing Roller Conveyor Chain-
Uses a unique Tsubaki design with cylindrical bearings in the rollers. Dust resistant, water resistant, and lube-free series also available. Solves the problem of stick-slip that causes problems with traditional conveyor chains.
Bearing roller functions

Reduces chain running resistance (1/3 that of standard conveyor chain)
Greatly increases the roller allowable load
Bearing roller effects

Less chain tension and required motor kW.
Eliminates stick-slip phenomenon on long conveyors at low speed operation.
Suppresses poor roller rotation and reduces rail friction.
Increased wear life (between bush - roller)
Digester Chain

Digester chain is used in pulping chemiground pulp and semiground pulp. It uses the perfect combination of materials and heat treatment for long-life operation.
Contact a Tsubaki representative for more information.
Cam Clutches --BS Series (for backstop applications)

Low speed backstop Cam Clutch for conveyors. Uses a special cam that provides full protection against dust for highly reliable operation.
Uses a specially developed cam and unique cam and roller construction for high shock absorption and wear resistance, and good lubrication.
Power Cylinders
Power cylinder that can be used with just simple electrical wiring.
Small and large thrust force types are standard products. A wide assortment of options are available, and various overload protection devices are installed for safe operation.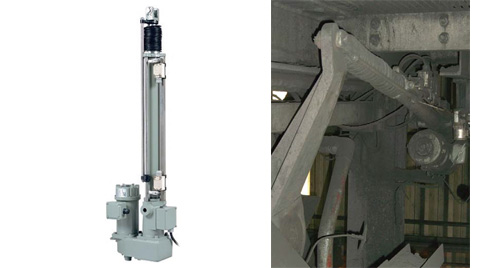 Small Size Conveyor Chain
You'll find Tsubaki small size conveyor chain in every aspect of production in the papermaking industry. We offer a wide selection to match your conveyor length, conveyance direction, and usage environment.