Tsubaki products are used in every single section of the automotive manufacturing process.
Automotive
Body welding shop
In the welding section, stamped components are assembled into vehicle bodies by a number of multi-axis robots. Most welding operations are automated.
Body Assembly --TKRB Series Cableveyor
®
Cable carriers group cables and wires together in moving areas of industrial equipment to protect and guide them.
The TKRB Series Cableveyor uses a special plastic material that provides excellent protection and endurance, and includes a steel wire inside to handle high loads. Its open structure allows cables to be pushed in, making maintenance easy.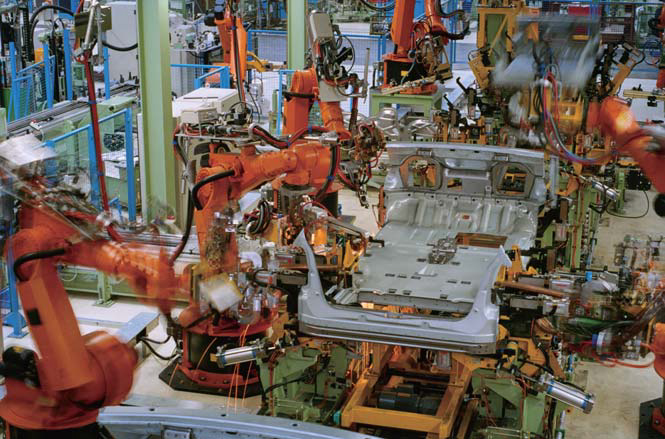 For welding robots -- Plastic Series Cableveyor
®
Plastic Series Cableveyors are used to protect the cables of welding robots traversing in the line.
Robots often traverse with long strokes. Long Span Types with Glide Shoes, such as the TKC Series and TKMT Series, are used to minimize cable carrier wear and realize longer-service life.

Wear comparison - Long Span Type with Glide Shoes
(After 130,000 cycles)

For pallet conveyance -- Double Plus Chain with steel rollers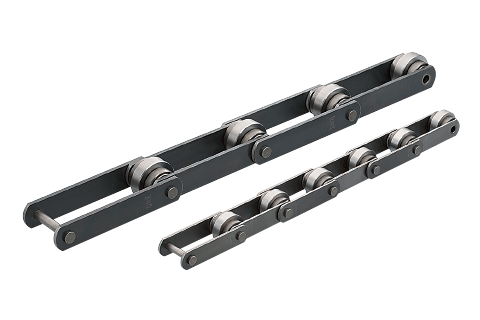 Double Plus Chains with steel rollers capable of accumulation are used for conveying body transport pallets. Thin frames can also be used to create a compact conveyor system.

The guns that move welding electrodes -- Ultra PX Belt HC Type
The guns that move welding electrodes need to provide high strength, compact power transmission while having a clean transmission mechanism that will not spatter grease and oil. They use Tsubaki HC Type Ultra PX timing belts.
Benefits

Much lower elongation during operation than with conventional PX belts
Over twice the transmission performance of conventional PX belts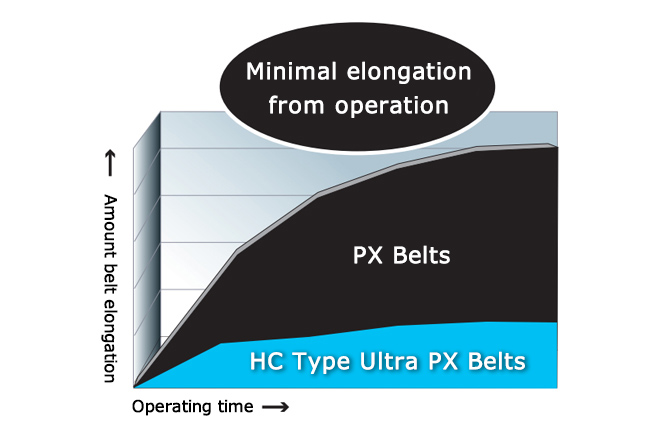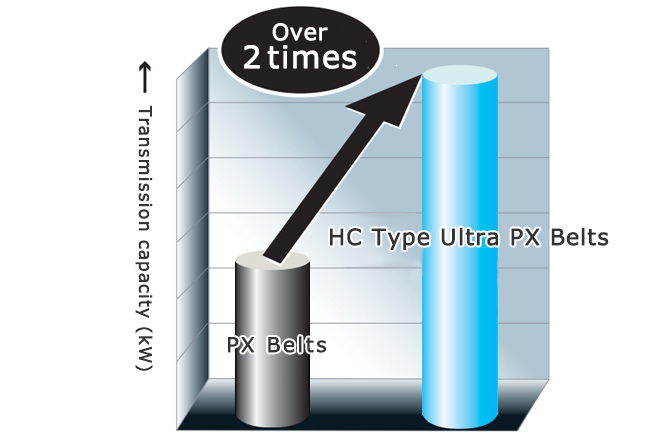 For lifting vehicle body loading pallets -- Lift Master
Lift Masters, which interlock two units to enable cantilever lifting, are used as equipment for lifting pallets that put vehicle bodies into the welding process.
There are two ways to synchronize operation of two electric Lift Masters: mechanically interlocking the two and installing a motor on each unit. Either way, the Lift Master provides customers with a streamlined and clean work environment.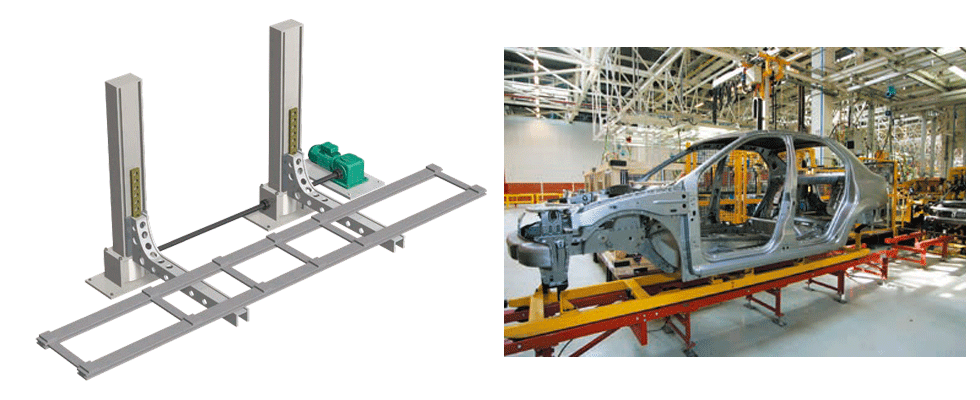 For body and part assembly equipment -- Lift Master
The Lift Master is an electrical lifter allowing overhang and lateral load.
Lift Masters are used in equipment that lifts incoming/outgoing work on lines where vehicle body frames, doors, and other parts are welded and assembled. Lift Masters are "plug and play" and can be used immediately. Their low floor and compact design helps users save space.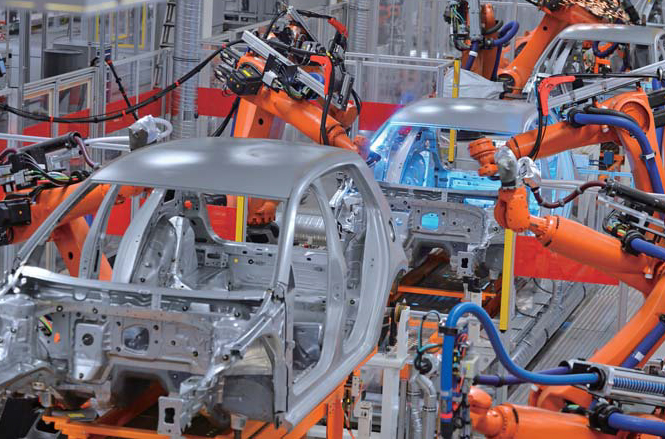 For body assembly equipment -- Lift Master
Lift Masters, which have a long service life and are strong against lateral loads, are used in transfer equipment that loads assembled bodies onto carts for the next process.
Four interlocked Lift Masters can act as work lifting equipment for simply handling huge overhang loads.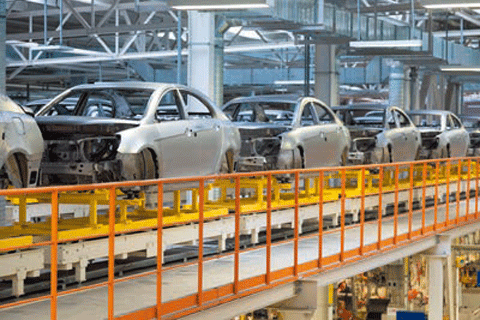 For part picking equipment -- Zip Chain Actuator
®
Zip Chain Actuators are compact and can be used as the lifter on simple loading equipment. They make it possible to manufacture equipment with simple constructions and enhance part pick-up speed.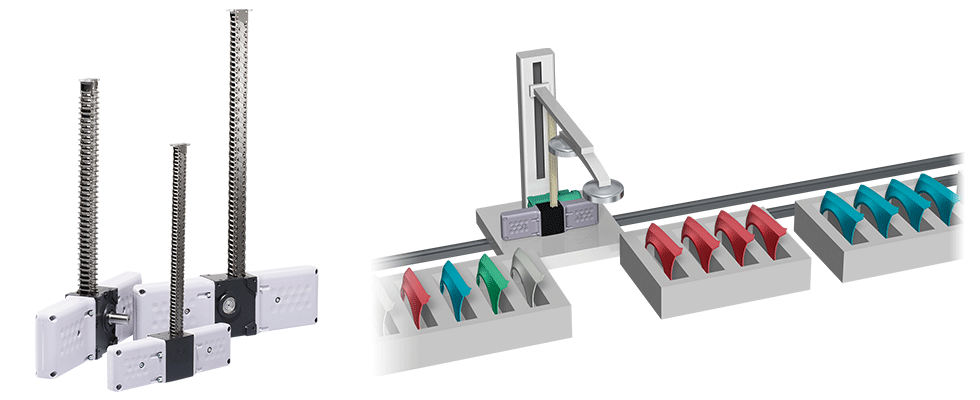 For part gantry loaders -- Zip Chain Actuator
®
Zip Chain Actuators, which can be installed in narrow spaces, can be used for lifting mechanisms of gantry loaders to save space. The ceiling can be lowered because the cylinder body does not protrude toward the ceiling, as compared with the air cylinders used for lifting.