Tsubaki products are used in every single section of the automotive manufacturing process.
Automotive
Assembly shop
Doors, interior components, seats, and tires are attached to the coated vehicle body in the assembly process. The bodies are conveyed on slat conveyors, conveyed by special suspension fixtures from the ceiling, or conveyed by trolleys driven by friction rollers with the assembly workers also riding on top.
For man conveyors on vehicle body assembly equipment -- Plastic Modular Chains
Tsubaki Plastic Modular Chain, which is quiet, lube-free, and clean, is used in man conveyors that carry workers when they mount parts on vehicle bodies.
BTH16 Series Modular Chain has a surface that prevents slipping. Moreover, they have the highest allowable load of any Tsubaki Plastic Modular Chain. Their slide plugs make chain assembly and disassembly easy, and shortens maintenance time.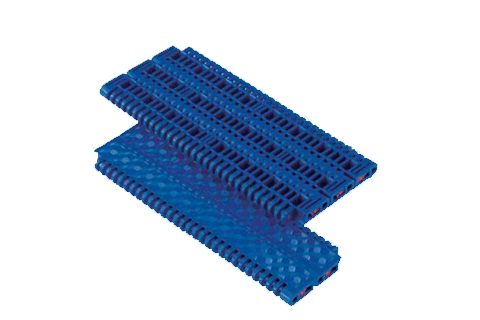 For low-floor man conveyors -- WT3109-W Series Plastic Modular Chain
This plastic modular chain is suitable for low-floor man conveyors that carry workers and tool trolleys.

Recommended conditions

Chain width: 1200mm or less
Conveyor length: 30mm or less
Mass of conveyed material: 100kg/m or less
For conveying vehicle bodies -- Bearing Roller Conveyor Chain
Bearing Roller Conveyor Chain features cylindrical bearings embedded in the rollers to minimize roller rolling resistance, reduce chain load/required power, and save power. It also prevents stick-slipping from occurring at low speeds.

Reduced chain running resistance
Reduces roller rotation problems and rail friction.
The function of the cylindrical rollers makes roller rotation smooth and reduces rail wear. In addition, it dramatically increases wear life of the roller.

Improved wear life
Reduces chain load/required power.
The chain load and required power are reduced by approximately one-third, which can result in significant cost savings, such as smaller chain sizes, downsizing of the whole conveyor, and energy savings.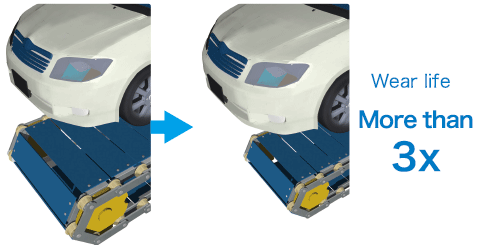 * The water resistance specification has approx. twice the wear life of RT Series.
Stable conveyor operation
Prevents stick-slip at low-speed operation.
Productivity will dramatically increase thanks to less stick-slip, stable conveyance of conveyed materials, and reduced seasickness on the assembly work line.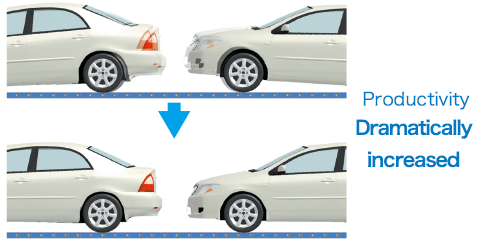 For interior and exterior part assembly equipment -- Small Size Conveyor Chains
Pallets with parts on them are conveyed to seat assembly lines, and after assembly are sent out at high speeds using friction conveyance.
Here you'll find Lift Masters, which can be used alone to lift, used on equipment to lift pallets, accumulating Free Flow Chain for conveyance on assembly part lines, and hypoid reducers on reducers for friction conveyance on outgoing lines.


For installing engines/rear suspensions -- Zip Chain Lifter
®
There is equipment used for installing engines and rear suspensions on vehicle bodies suspended by overhead conveyors. This process requires high positioning accuracy, so Zip Chain Lifters are used to enable higher-speed lifting with superior stopping accuracy over hydraulic lifters.

For lifting equipment automotive parts -- Zip Chain Lifter
®
To more effectively utilize site space, doors and seats are sometimes supplied from above separately from conveyors for vehicle bodies. The Zip Chain Lifter is used in the process where parts are lowered from above into bodies.

For receiving and lifting interior parts -- Zip Master
Interior parts such as seats are loaded onto pallets and conveyed to the assembly plant. The Zip Master, with its high speed/frequency/accuracy lifting, is used as multi-level positioning equipment to sort these parts to the roller conveyors that supply them to the assembly line. This "plug and play" type equipment enables quick installation and speedy improvement of the site.

For body and part assembly equipment -- Lift Master
The Lift Master is an electrical lifter allowing overhang and lateral load.
Workability can be maintained by using two Lift Masters on either side to lift the vehicle body. Users can also minimize equipment changes that accompany different body types.

Specifications with reinforced main pillars are also available for problems due to vibration when lifting or sag when stopping.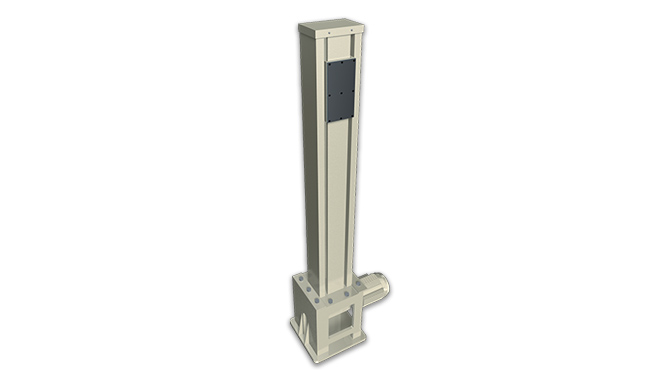 For lifting equipment for mounting parts -- Lift Master Low profile specs
Low profile specs allow installation even in spaces where standard Lift Masters could not be installed.
Lift Masters are used in equipment that lifts incoming/outgoing work on lines where vehicle body frames, doors, and other parts are welded and assembled. Their low floor and compact design helps users save space.

For conveying vehicle bodies -- Lift Master
In the assembly process, two "plug and play" Lift Masters convey vehicle bodies between processes. The Lift Master itself vertically and laterally travels while lifting bodies, which shortens conveyance time and production tact.

For conveying in-vehicle parts -- Lift Master / Pin Gear Drive Unit
A module that combines the Lift Master and the Pin Gear Drive Unit is used for equipment that swivels heavy parts (such as rear suspensions) and transfers them between conveyors. Smooth, compact swing conveyance can be realized by installing the "plug-and-play" Lift Master on a swivel plate using the Pin Gear Drive Unit.

Tire mounting equipment -- Lift Master
This equipment destocks and subdivides each of four stacked tires before conveying them to the assembly line. Lift Masters are used on either side of this equipment.

For anchoring trolleys -- Power Cylinder
Power Cylinders are used to anchor trolleys loaded with vehicles onto the assembly line. They can reduce power consumption and be installed in limited space available to trolleys.