Tsubaki products are used in every single section of the automotive manufacturing process.
Automotive
Assembly section
Doors, interior components, seats, and tires are attached to the coated vehicle body in the assembly process.
The bodies are conveyed on slat conveyors, conveyed by special suspension fixtures from the ceiling, or conveyed by carts driven by friction rollers with the assembly workers also riding on top.
For man conveyors on vehicle body assembly equipment --Plastic Modular Chains
Tsubaki Plastic Modular Chain, which is quiet, lube-free, and clean, is used in man conveyors that carry workers when they mount parts on vehicle bodies.
BTH16 Series Modular Chain has a surface that prevents slipping. Moreover, they have the highest allowable load of any Tsubaki Plastic Modular Chain. Their slide plugs make chain assembly and disassembly easy, and shortens maintenance time.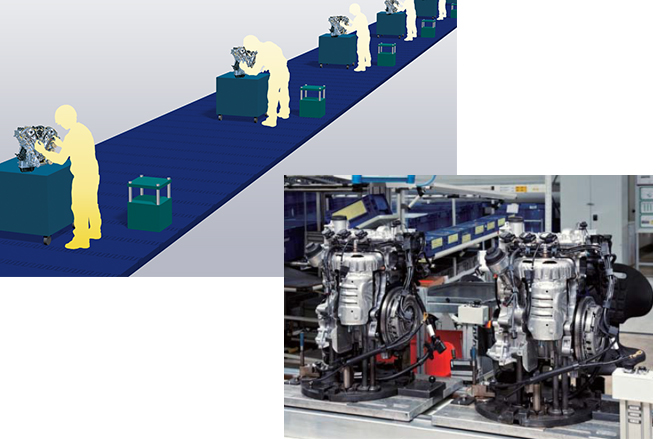 For body and part assembly equipment --Lift Master
The Lift Master is an electrical lifter allowing overhang and lateral load.

Specifications with reinforced main pillars are also available for problems due to vibration when lifting or sag when stopping.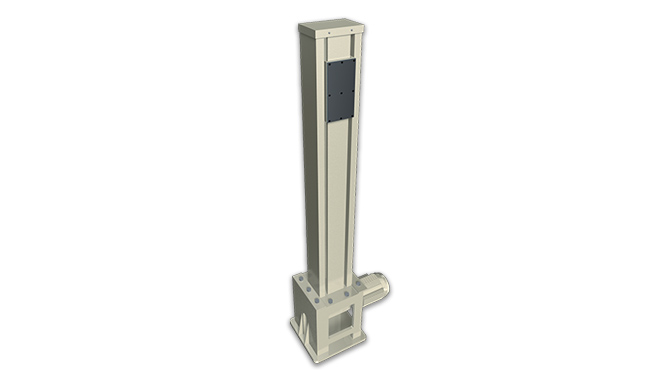 For lifting equipment for mounting parts -- Lift Master Low profile specs
Low profile specs allow installation even in spaces where standard Lift Masters could not be installed.
Lift Masters are used in equipment that lifts incoming/outgoing work on lines where vehicle body frames, doors, and other parts are welded and assembled. Their low floor and compact design helps users save space.

For interior and exterior part assembly equipment --Small Size Conveyor Chains
Pallets with parts on them are conveyed to seat assembly lines, and after assembly are sent out at high speeds using friction conveyance.
Here you'll find Lift Masters, which can be used alone to lift, used on equipment to lift pallets, accumulating Free Flow Chain for conveyance on assembly part lines, and hypoid reducers on reducers for friction conveyance on outgoing lines.


For part assembly equipment --Zip Chain Actuator
Parts are lifted from the supply conveyor onto the assembly cart so the workers can use them for assembly. Tsubaki Zip Chain Actuators are used because they can be installed in tight spaces at worker waist level.
Zip chain was uniquely developed by Tsubaki. Two chains lock together like a zipper to form a single, strong column for pushing and pulling applications.
High-speed lifter for vehicle body assembly equipment --Zip Chain Lifter
The Zip Chain Lifter is a high-speed lifting device that can accurately bring parts for mounting on vehicle bodies to rest at worker eye level.
This improves efficiency and productivity by improving worker posture, and helps increase maintainability.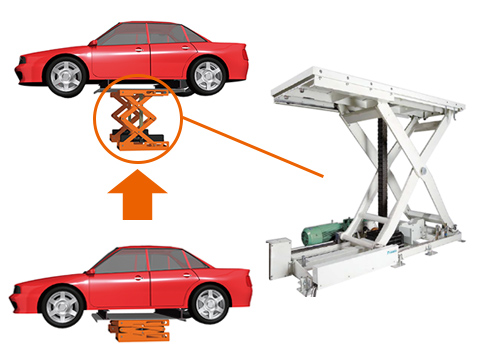 For part assembly equipment --Pin Gear Drive Units
Parts are assembled and mounted on a turntable. Turntables need to save space, so Tsubaki Pin Gear Drive Units are used.
Tsubaki Pin Gear Drive Units are a new drive system that replace gears and racks. Consisting of a pin wheel and rack, and a gear with a unique tooth profile, Pin Gear Drive Units offer limitless design possibilities for rotating and linear drives.