Horizontal / Vertical Combination
Tsubaki NAB-R Aprovator (Continuous Rubber Bottom Bucket Specification)
Optimal for handling adhesive and bulk materials that couldn't be conveyed by the previous NAB Aprovator.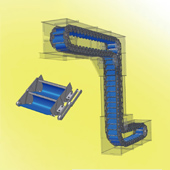 1. Features
Uses rubber sheets with wear resistance for the bottom of the buckets.
Minimizes adhesion -- conveyed materials come off easy.
Less residue in buckets, reduced energy loss.
Reduces the number of cleanings.
Compatible with any NAB Aprovator currently in use.
2.Standard Models and Conveying Capacity
3 models, from NAB250R (bucket width: 250mm) to NAB600R (600mm)
1.5m3/hr (NAB250R S = 5m/min.) to 19.5m3/hr (NAB600R S = 15m/min.)