Press Release
Introducing the Operation Monitoring Package for the MitaMon Starter Kit
2019/1/15
IoT-enabled Remote Monitoring Platform
Now supporting sensor signal input, enabling comparison of operation history and sensor data.
Tsubakimoto Chain Co., Ltd. (President: Yasushi Ohara, Headquarters: Kita-ku, Osaka) announces the addition of a sensor signal input function (4–20 mA* DC) to the Operation Monitoring Package for the MitaMon Starter Kit, a product introduced in April 2018 to simplify the implementation of an Internet of Things (IoT) system. This upgraded kit will go on sale on January 30, 2019. *milliamps
When monitoring the operation of a conveyor equipped with various sensors and a stack light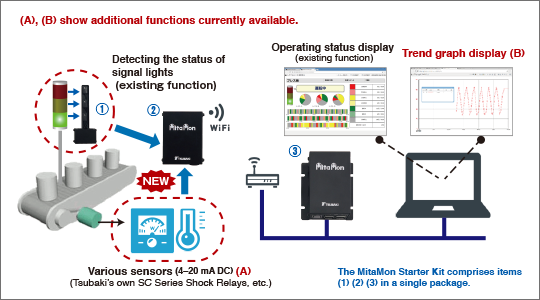 The Operation Monitoring Package for the MitaMon Starter Kit (released in April 2018) can be easily installed on a stack light, simplifying the introduction of an IoT operation monitoring system for machinery and equipment. In response to requests to provide information in addition to stack light status, we have added the capability to capture measurement values from a variety of sensors.
The system now accommodates 4–20 mA DC input (the international standard for instrumentation) that has been adopted as the de facto practice for sensor signal transmission. In addition, a trend graph display function is provided as a means of visualizing the captured 4–20 mA DC sensor signals. As a result, the sensor signal trend can be displayed in chronological order.
The addition of this function allows the sensor data to be compared with the status of the stack lights, so the operation can be monitored while any correlation is monitored. This also reduces energy consumption of machinery and equipment as well as unnecessary idling.
Features
Captures measurement values from various sensors (accepts 4–20 mA DC transmission signals).
This system is compatible with common 4–20 mA DC transmission signals from sensors.
Easy setup
A specific range of sensor input values can be viewed in graph form with some simple settings.
An alarm email can be issued whenever the upper or lower limit values have been exceeded.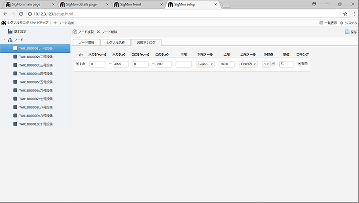 Trend graph display function now included
The system is capable of recording sensor input values at one-minute intervals and displaying them as trend graphs.
It is possible to visualize the transition of values in a time series and correlate conditions before and after an abnormal occurrence.
(Example: Current value tends to rise for about an hour before the stack light turns red.)
Can be expanded to up to 10 units (similar to our conventional product).
With our Expansion Sensor Kits, you can scale up your system to a maximum of 10 units for each server.
Applications
Monitoring and recording the operation of facilities and machinery equipped with stack lights and sensors, and compiling relevant data
Lead time
Two weeks after receipt of order
Price
(deferred)
 Starter Kit: ¥298,000 (excluding tax)
 Expansion Sensor Kit: ¥98,000 (excluding tax)
Sales forecast
FY 2019: ¥150 million
FY 2021: ¥360 million
Release date
January 30, 2019
Toward a Sustainable Society
The Tsubaki Group is engaged in the "art of moving" and aims to provide value that exceeds expectations
to become a company that continues to be needed by society.