Tsubaki
Mobility Solutions
Our challenge as we enter our next 100 years:
Three New Business Areas
Tsubakimoto Chain was founded in 1917. One of its main businesses, the mobility business, aims to contribute to solving social issues, including the global environment, though "new products that support the future of mobility". In addition to producing timing chain and transfer case chain, we will take on the challenge of entering three new lines of business.
Drivetrain Contributing to Society and
to Clean Energy
To support societal mobility goals such as lowering CO2 emissions and reducing energy loss, we will contribute to society and the environment by creating products that enable next generation drivetrains to be more efficient, lighter weight and smaller in size.
PRODUCTS
We have spent over half a century developing, designing, and producing our timing chain systems which contribute to engine performance improvements. These efficient, durable timing drive systems are supplied to vehicle manufacturers worldwide.
As the global market share leader, we use state-of-the-art technology to satisfy market and customer demands.

The Enedrive® Chain series achieves high-speed rotation, high torque transmission, and a high gear reduction ratio.
It is an indispensable part of creating a highly efficient and versatile system, which is lighter, quieter and more cost-effective than current systems.

Optimizes overall system output by efficiently transmitting output from multiple drive sources.
We offer various clutch types such as Selectable (electronically controlled), Mechanical, Internal Bearing type, etc.
Personal Mobility
Comfort for All
We will contribute to the diverse mobility needs of our society, firstly via providing one-way clutches that are used in e-bikes and offer compact drive units that can be used in various micro mobility solutions.
PRODUCTS
A one-way clutch that switches to and from motor assistance.
This clutch contributes to drive unit efficiency, light weight, small size, and improved drivability.

A one-way clutch that switches to and from self starter motor and crank shaft during engine start.
An important part that needs to be high in quality and durability to support driver safety.
Comfort System The Creation of
a Comfortable Mobility Space
Due to changes in lifestyle and automated driving, etc., we are seeing diversification in the use of in-car space.
We will deliver comfort to all mobility users through flexible seat arrangement and seamless opening and closing of doors. (Just removed "Workstyle".
PRODUCTS
A "Zip Chain" is a unique product, independently developed by Tsubaki where two chains mesh together to form a rigid pillar shape.
This makes the chain compact and easy to package, contributing to the creation of a unique mobility space.

Contributing to in-car comfort and safety through smooth, reliable operation of power sliding doors and power seats, etc.
Tsubaki will provide all mobility users with enhanced comfort and convenience.

"eLINK" V2X bidirectional charging that connects an EV's large capacity battery to buildings and the power network.
Normally V2X plays a coordinating role for power supply and demand, such as assisting in load balancing the power grid, but it can be used as a reserve power source in times of emergency.
Mobility products movies
Vehicle One-Way Clutch

E-Bike One-Way Clutch

Zip Chain Actuator®

4 mode Selectable Clutch
Global Network
Our mobility business has 19 sales/production sites worldwide and is supporting global mobility companies in real time. Through global optimized production, optimized procurement, and a global quality assurance organization, we provide quality, service and price at a global uniform level.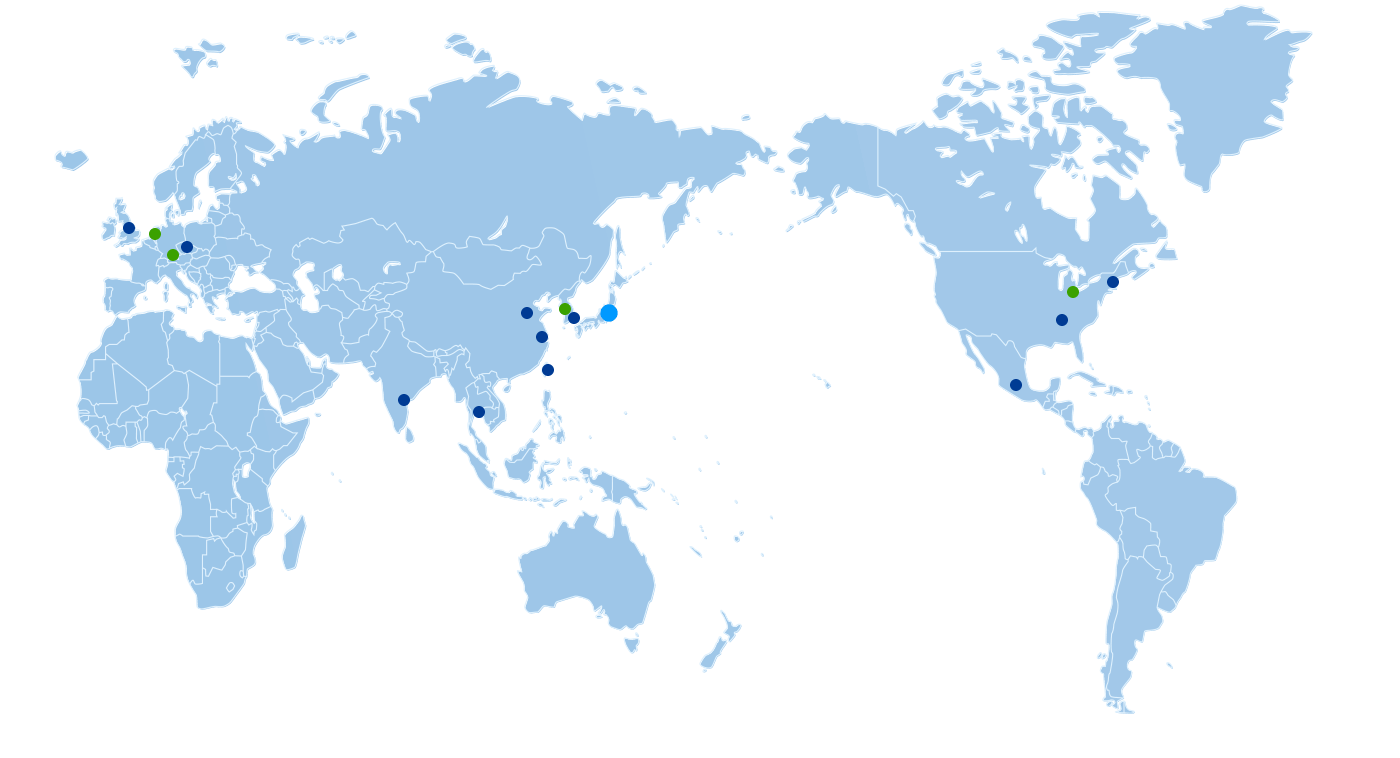 Mother Plant
Production Plant
Sales & Engineering Office
Locations in Japan
Tsubakimoto Chain Co.
Saitama Plant
Kyotanabe Plant
Hyogo Plant
Okayama Plant
Asia
Tsubakimoto Automotive Korea Co., Ltd.
Changwon Plant
Tsubakimoto Automotive Korea Co., Ltd.
Seoul Office
Tsubakimoto Automotive (Shanghai) Co., Ltd.
Tsubakimoto Chain (Tianjin) Co., Ltd.
Taiwan Tsubakimoto Co.
Tsubakimoto Automotive (Thailand) Co., Ltd.
Tsubaki India Power Transmission Private Limited
North America
U.S. Tsubaki Automotive, LLC
Chicopee Plant (MA)
U.S. Tsubaki Automotive, LLC
Portland Plant (TN)
U.S. Tsubaki Automotive, LLC
Detroit Office (MI)
Tsubakimoto Automotive Mexico S.A. de C.V.
Europe
Tsubakimoto UK Ltd.
Tsubaki Automotive Czech Republic s.r.o.
Tsubaki Deutschland GmbH
Tsubakimoto Europe B.V.
Thank you for your interest in TSUBAKI mobility products.
Contact us by clicking below.
CLICK HERE
Toward a Sustainable Society
The Tsubaki Group is engaged in the "art of moving" and aims to provide value that exceeds expectations
to become a company that continues to be needed by society.