Press Release
Release of Tsubaki IoT-ready auto-shutoff compact gear motors
2019/05/23
Industry-First Design Enables Predictive Equipment Maintenance by Monitoring Power, Temperature, and Vibrations
Help Create Smart Manufacturing Sites
Tsubakimoto Chain Co. (President: Yasushi Ohara, Headquarters: Kita-ku, Osaka) has developed the Tsubaki IoT-ready auto-shutoff compact gear motors, to be released on June 1, 2019. The new models are the first of their kind in the industry, and come with a function for remotely monitoring operation states of equipment such as conveyors.
With Japan's shrinking labor force creating a growing demand for automation, manufacturers are increasingly working on creating 'smart' factories that bring transparency to equipment operation states, prevent operation shutdowns caused by equipment issues, and improve quality and productivity. But building systems that combine sensors and other devices is a major challenge when making entire factories IoT-ready.
Tsubaki has responded by developing the Tsubaki IoT-ready auto-shutoff compact gear motor models that combine a general-purpose gear motor with a terminal box unit containing high-precision power, temperature, and vibration sensors. Drawing on technical expertise gained from overload protector development, Tsubaki has developed a series of gear motor models that combine a number of different features in a single unit. The new models provide load state monitoring and emergency motor shutdown, and have a function for automatically recording monitored load data and shutdown events. They can also be connected to a network to enable remote monitoring, helping users install IoT devices and create smart factories.
Features
Power, temperature, and vibration monitoring
The new models combine a gear motor with a terminal box unit having built-in power, temperature, and vibration sensors to enable continuous monitoring of different loads. They prevent equipment issues, and have an auto-shutoff function that automatically shuts down the motor when equipment errors occur. A function is also provided that automatically saves the different types of gathered data, enabling factor analysis when equipment issues occur.
Monitoring load states of entire systems
The power monitoring feature of the new models enables high-precision monitoring of load states ranging from low to high. The temperature and vibration sensors also enable simultaneous monitoring of motor overheating and vibrations caused by continuous high-load operation, letting operators track the load states of both the gear motor and the entire system. These features help prevent equipment issues.
Automatic shutdown when equipment errors occur (auto-shutoff)
The new models have a function that prevents damage to the gear motor and equipment by detecting an equipment error and automatically shutting down gear motor operation if the power, temperature, or vibrations exceed the set threshold. When monitoring power, the product can monitor for instantaneous overloads, and perform thermal monitoring to safely shut down the equipment if the load increases gradually. The equipment is also safely shut down when a suddenly reduced load is detected, signaling an issue such as a chain break.
When equipment errors occur, the last 10 seconds' (default setting) worth of data before the automatic shutdown is automatically saved in the gear motor body. The data can be loaded to a PC to help with factor analysis by showing the load, temperature, and vibration information at the time of the error.
Network connection function for remote monitoring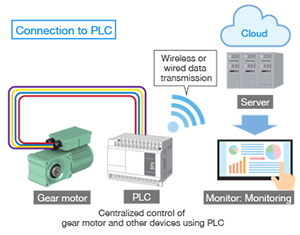 The IoT-ready functions of the product enable network-based connections to a wide range of devices. By remotely monitoring gear motor operation states in real time, users can analyze and apply the generated data to assist preventive and predictive maintenance.
Network connection to devices
The new models come with functions enabling continuous remote monitoring by means of network-based connection to cloud servers, PLCs (programmable logic controllers), and PCs. Network communication uses the highly versatile and common Modbus (RS-485) communication protocol.
Supports predictive maintenance, preventing equipment issues
Today's manufacturers are increasingly moving away from the regularly scheduled maintenance/inspection regimes of traditional preventive maintenance, and instead adopting predictive maintenance approaches made possible by continuous measurement and monitoring. Predictive maintenance can reduce maintenance man-hours by predicting degraded device states so that parts can be replaced or repaired when needed.
The network connection function of the product can be used to bring transparency to equipment operation. The equipment load states of up to 16 units can be remotely monitored to detect changes in power values or drive unit overheating/vibration states. The generated monitoring data can be loaded to an external device and analyzed to provide predictive maintenance.
Dedicated software (included) enables equipment state monitoring with a simple setup procedure
The dedicated software provided with the new models makes it easy for users to save data and change parameters. When the gear motor is connected to a PC, the software can also display the waveforms of load states of multiple values in real time. (The software can be downloaded from Tsubaki's website.)
Applications
Use with equipment for centralized monitoring or preventive maintenance of multiple devices in areas such as semiconductors, IT, freight movement or packaging
Available models
Hypoid Motor models, Hypoid Motor Mini models, Croise Motor models, Gear Motor models
Supported capacities: 40 W to 0.4 kW
Lead time
3 weeks
Sales forecast
FY 2019: ¥30 million
FY 2021: ¥60 million
Release date
June 1, 2019
Toward a Sustainable Society
The Tsubaki Group is engaged in the "art of moving" and aims to provide value that exceeds expectations
to become a company that continues to be needed by society.