Information
Tsubaki president Ohara to appear on NHK World-Japan "Direct Talk"
2019/06/21
The president of the Tsubakimoto Chain Co., (Headquarters: Kita-ku, Osaka) Yasushi Ohara, will appear on an English interview program called "Direct Talk" on the international broadcast of NHK World-Japan, which is viewed by about 300 million households in 160 countries and regions. "Direct Talk" introduces Japanese and Asian intellectuals, management executives, and artists in English.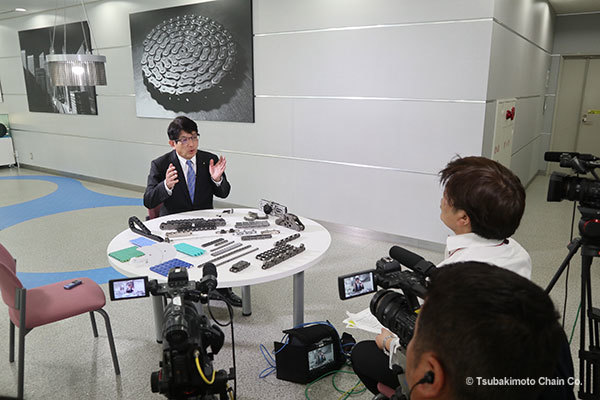 In the interview conducted at the Company's Kyotanabe Plant, Mr. Ohara explained about the spirit of challenge that was inherited from the founder, Setsuzo Tsubakimoto, the commitment to "monozukuri", and the evolution of the timing chain system. Also, Mr. Ohara talks about his views of work and his working experience overseas.
This program is available on live from Direct Talk web site: https://www3.nhk.or.jp/nhkworld/en/ondemand/video/2058509/
The episode is entitled: "The Potential of Industrial Chain: Yasushi Ohara / President & COO, Tsubakimoto Chain"
Broadcast schedule
June 24: 16:15 - 16:30 / 20:40 - 20:55 (UTC)
June 25: 1:15 - 1:30 / 5:15 - 5:30 (UTC)
Available on the NHK web site from 15:00 on June 25th