Press Release
Introducing Zip Master™ Electric Cantilever Lifter
2018/6/6
Zip Chain enables high-speed, high-frequency operation
Less labor required for installation — the plug-and-play design is ready to operate as soon as power is applied, drastically reducing time spent on design/assembly and installation.
Tsubakimoto Chain Co., Ltd. (President: Yasushi Ohara, Head Office: Kita-ku, Osaka) has introduced the Zip Master, an electric cantilever lifter incorporating Zip Chain that easily handles high-speed, high-frequency operation. This product is scheduled for introduction in June 2018.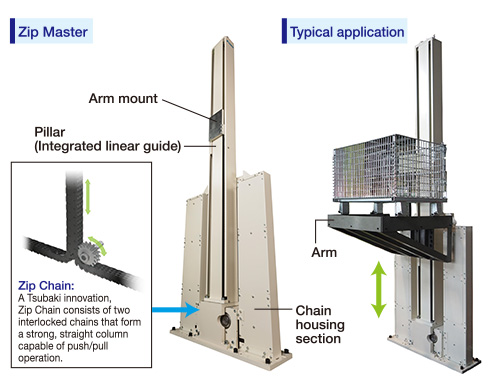 In the domestic lifter market, electrification is progressing due to improved driving accuracy as well as environmental considerations. This is especially true in the automobile, logistics, and semiconductor industries, where demand for high-speed electric lifters is growing to meet requirements for increased productivity and greater energy efficiency.
Tsubaki's new Zip Master employs the company's unique proprietary Zip Chain drive system. The smoothly engaging chain mechanism achieves high-speed, high-frequency operation that exceeds the capabilities of devices employing conventional drive methods. The compact cantilever structure integrates a Zip Chain, guide and motor, which makes the device easy to install and simple to maintain. In addition, because the arm is mounted to accommodate the shape of the work, this device can handle various lifting applications including high-speed transfer of parts and even the high load requirements of car bodies and the like.
We developed the Zip Master to enhance our line of electric lifter products, which includes the compact, high-precision Lift Master as well as the table-type Zip Chain Lifter offering high-speed, high-frequency operation.
Note: This new product meets our voluntary eco assessment criteria.
Features
High-speed, high-frequency operation
The Zip Master utilizes the advantages of the Zip Chain drive to achieve high-speed, high-frequency operation of up to 1,000 mm/s, which is beyond the capabilities of conventional screw-type models. In addition, service life exceeds 1 million reciprocating up-and-down cycles.
* Operation frequency can be further increased with the adoption of a servomotor drive.
* The maximum speed of screw-type lifters is 150 mm/s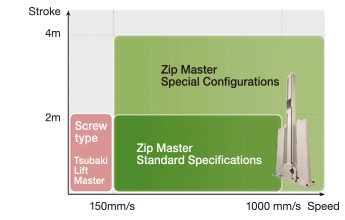 Achieves a high lift range of up to 4 m.
Adopting a highly rigid linear guide, this unit provides standard strokes of up to 2 m and an available stroke of up to 4 m. High-precision stops can be provided at any desired positions.
Easy-to-install plug-and-play design
This innovative device makes it unnecessary to assemble the unit or construct pits at the installation site. Simply connect a power supply and it's ready for use immediately. Also, since the drive section is located at the bottom of the device, maintenance work is safer and easier than with a drop lifter.
Applications
Lifters in place of drop lifters for conveying objects for logistics and for the auto industry.
(Typical applications)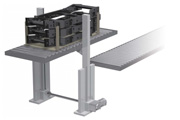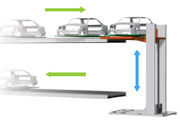 Available models
ZMEL0200U
ZMEL0500H
ZMEL1000M
Reference: Lift Master
Allowable load
1.96kN {200kgf}
4.90kN {500kgf}
9.80kN {1,000kgf}
9.80kN {1,000kgf}
Stroke
1,500 mm, 2,000 mm (4,000-mm special configuration available)
400~1,500mm
Lifting speed
1,000mm/s
800mm/s
330mm/s
150mm/s
Footprint
950×537mm
950×561mm
1,200×677mm
430×460mm
Lead time
3 months
Sales forecast
FY2020: 150 million yen
Release date
June 1, 2018