Press Release
Completion of the newly Built Materials Handling Plant with Exhibition Hall at the Saitama Plant
2018/7/10
Introducing the "Charming Development Plant" for Strengthening Development of New Products and Technologies
Tsubakimoto Chain Co., Ltd. (President: Yasushi Ohara, Head office: Kita-ku, Osaka City) has completed construction of a new materials handling plant at the company's Saitama Plant (20, Shinko, Hanno, Saitama Prefecture) with production beginning in June 2018.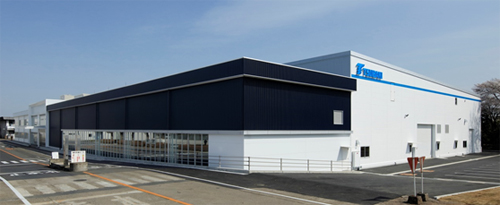 Tsubakimoto constructed this new factory at the Saitama Plant to cope with the aging former materials handling plant (completed in 1962) and with changes in product composition. Based on the concept of a "Charming Development Plant," the new materials handling plant will offer enhanced functionality as a new base plant for Tsubakimoto's Materials Handling Systems Operations. In addition to introducing new products and new technology development functions, the plant also features an exhibition hall where customers can get a firsthand look at products. The plant was completed on April 18, and operations began in June following the relocation of operations.
After the dismantling of the former materials handling plant, the location has been designated as the site of a new facility for automobive parts.
Characteristics of the New Materials Handling Plant
In addition to facilities for machining, assembly, development, trial operations, and a clean room, the new materials handling plant features the M.LABO exhibition hall. Each of the plant's areas have been carefully designed to promote the "Charming Plant" concept for product and manufacturing sites.
Specialization in Development of New Products and Technologies
With the goal of speeding up the development process for new products as well as improving quality and reducing costs, Tsubakimoto's plants incorporate an integrated system that covers development design to manufacturing.
Incorporation of Manufacturing and Maintenance Workshops
The new plant's manufacturing and maintenance workshops are designed to facilitate skills sharing and improvement for assembly and maintenance work. These workshops are a testament to Tsubakimoto's dedication to improving quality through cross-trained workers and to improving customer satisfaction.
Safe, Comfortable, and Environmentally Friendly
In addition to the required manufacturing equipment, the new plant includes environmentally friendly infrastructure equipment such as rooftop greening, solar power generation, LED lighting, and energy-saving air conditioning. With these facilities, Tsubakimoto aims to reduce plant CO2 emissions by half.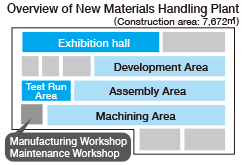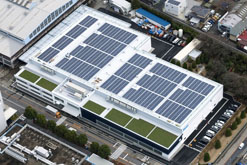 M.LABO Exhibition Hall
The newly established M.LABO permanent exhibition hall in the new materials handling plant was designed as a place where customers can get a firsthand look at products and how they function. Exhibited products will be rotated regularly and will include Tsubakimoto's latest materials handling products.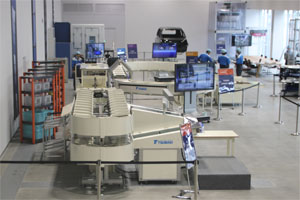 Main product exhibit
[Logistics Industry]
Products on display include the LiniSort high-capacity sorting machine for the transportation industry and wholesale/retail distribution centers, and the T-TrayReader for recognizing RFID tags.
[Automobile Industry]
Products on display include machines for painting lines, assembly lines, and car body manufacturing in automobile plants.
[Life Sciences]
Products on display include the Labo Stocker — the industry's first ultra-low-temperature automatic storage device capable of handling temperatures of -150°C.
[Newspaper Industry]
Products on display include materials handling equipment and other machinery that help automate the transferring and storage of paper rolls weighing over 1 ton.
[Production Processing, Financial, and Entertainment Industries]
Products on display include the Autran Vanguard overhead traveling carriage that can be used for various applications in the IT and food industries, RFID readers for credit document storage, and "Zip Chain Lifters" for high lifting.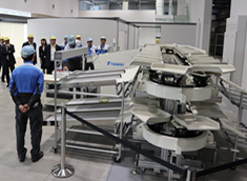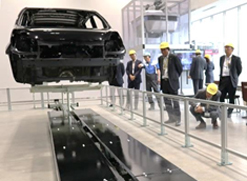 Materials Handling Plant Summary
Location:
20, Shinko, Hanno, Saitama (inside Tsubakimoto Chain's Saitama Plant)
Construction area:
7,672 ㎡
Total floor area:
8,974 ㎡ (3 stories)
Construction period:
June 13, 2017 (start) to April 18, 2018 (end)
Operations start:
June 2018