Press Release
Tsubaki Small Gear Motor IoT-Specification Released
2020/09/24
Industry-first design enables predictive equipment maintenance by monitoring power, temperature, and vibrations
The Tsubakimoto Chain Co. (President: Yasushi Ohara, Head Office: Kita-ku, Osaka) announced the release of the Tsubaki Small Gear Motor IoT Specification, which can handle a wide range of applications such as inverter drives. This follows the industry leading Tsubaki Small Gear Motor IoT-compatible self-blocking Specification, that was launched in June 2019. The new model will be launched on October 1, 2020.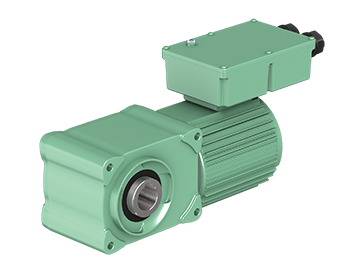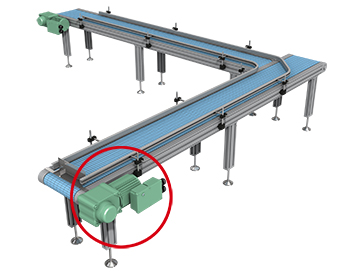 In recent years, as equipment and processes become more automated, there is a growing need for IoT equipment that can remotely monitor operating conditions for the purposes of maintenance management. We are accelerating our efforts toward smart plants, which are able to prevent operational stops by making potential problems with the equipment's operating status "visible," thereby improving quality and productivity. We know that building systems that combine sensors and other devices is a major challenge when making entire factories IoT-ready.
Tsubaki has responded by developing the Tsubaki IoT-ready auto-shutoff compact gear motor models that combine a general-purpose gear motor with a terminal box unit containing high-precision power, temperature, and vibration sensors. By integrating the sensor and the gear motor, high-precision load monitoring is achieved, enabling monitoring of the operating status close to the actual load. This system also responds to inverter drives, and integrates an automatic recording function in the event of an abnormality, and a function that enables remote monitoring on the network. Replacing gear motors from existing facilities facilitates the introduction of IoT, contributing to efforts toward smart plants.
Features
Power, temperature, and vibration monitoring
The new models combine a gear motor with a terminal box unit having built-in power, temperature, and vibration sensors to enable continuous monitoring of different loads. Problems are prevented by constantly monitoring each load and issuing an alarm or stopping the motor using a relay in the event of an error. A function is also provided that automatically saves gathered data, enabling factor analysis when equipment issues occur.
1. Monitoring load states of entire systems
Equipped with a correction function (patent pending) using a temperature sensor, damage to the gear motor and equipment can be prevented by detecting equipment errors and automatically shutting down gear motor operation if the power, temperature, or vibrations exceed a set threshold. The temperature and vibration sensors also enable simultaneous monitoring of motor overheating and vibrations caused by continuous high-load operation, letting operators track the load states of both the gear motor and the entire system. These features help prevent equipment issues.
2. Equipped with multiple monitoring modes
In addition to monitoring instantaneous overloads, power monitoring also includes thermal monitoring to detect gradually increasing loads. The equipment is also safely shut down when it detects a suddenly reduced load, signaling an issue such as a chain break. When equipment errors occur, the last 10 seconds' (default setting) worth of data before the automatic shutdown is automatically saved in the gear motor body. The data can be loaded to a PC to help with factor analysis by showing the load, temperature, and vibration information at the time of the error.
Significantly expanded the available range of support
Last year's "Auto-shut-off model" was limited in use for certain industries, but the new "Tsubaki Gear Motor IoT Specifications" offers a wide range of motor capacities up to 1.5kW, in addition to inverter-driven, braked, and 400V-class models. It can be used for various production facilities from small to large scale.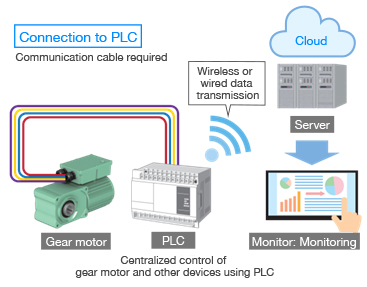 Network connection function for remote monitoring
The IoT-ready functions of the product enable network-based connections to a wide range of devices.
1. Network connection with various devices is possible.
The new models come with functions enabling continuous remote monitoring by means of network-based connection to cloud servers, PLCs (programmable logic controllers), and PCs. In addition to wired communications, we are also able to connect our products to Mitarou and MitaMon to meet a wide range of wireless communications needs. The products can be continually monitored remotely. The communication method is highly versatile and implements the widely used modbus (RS-485), making it easy to incorporate it into existing monitoring systems.
2. Supports predictive maintenance, preventing equipment issues
Today's manufacturers are increasingly moving away from regularly scheduled maintenance/inspection regimes of traditional preventive maintenance, and instead adopting predictive maintenance approaches made possible by continuous measurement and monitoring. Predictive maintenance can reduce maintenance man-hours by predicting degraded device states so that parts can be replaced or repaired when needed.

The network connection function of the product can be used to bring transparency to equipment operation. The equipment load states of up to 16 units can be remotely monitored to detect changes in power values or drive unit overheating/vibration states. The generated monitoring data can be loaded to an external device and analyzed to provide predictive maintenance.
3. Dedicated software (included) enables equipment state monitoring with a simple setup procedure
The dedicated software provided with the new models makes it easy for users to save data and change parameters. When the gear motor is connected to a PC, the software can also display the waveforms of load states of multiple values in real time. (The software can be downloaded from Tsubaki's website.)
Applications
Centralized monitoring or preventive maintenance of multiple devices in industries such as foodstuffs or automotive
Available models
Hypoid motors and gear motors (Compatible capacity: 0.1kW to 1.5kW)
Lead time
3 weeks
Sales forecast
FY 2021: 80 million yen
FY 2022: 100 million yen
Release date
October 1, 2020