Press Release
MitaMon FaM Operations Monitoring Package for IoT-enabled Manufacturers
2020/10/28
MitaMon® FaM launched - Easily introduce an IoT system that combines a clamp-type current sensor/data collection device
On November 1, 2020, Tsubakimoto Chain Co. (President: Yasushi Ohara, Head Office: Kita-ku, Osaka) will launch "MitaMon FaM", an operation monitoring package for the manufacturing industry that allows you to easily build IoT-compatible operation monitoring systems for factories that can be combined with equipment available in the consumer market.

In April 2018, we launched the MitaMon Starter Kit, which can be used to monitor IoT operation of equipment by simply installing a lighting sensor on a stack light. MitaMon FaM was developed to enable more flexibility in monitoring operation of production lines than the simplified version of the starter kit.

MitaMon FaM helps improve operation rate and productivity at manufacturing sites by using IoT.
(NOTE) Communication through Modbus data-gathering devices and PLCs and various aggregation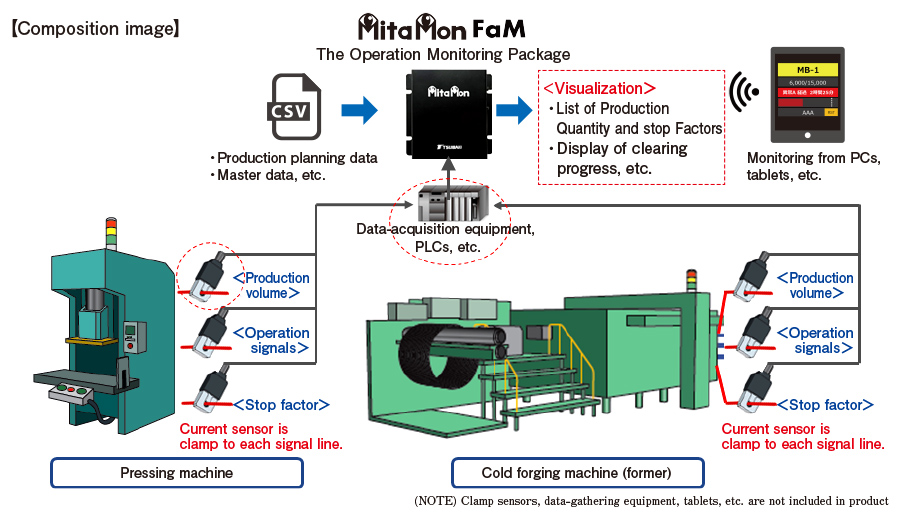 Features
Integrated necessary monitoring functions for mass production sites
Functions, such as production progress and status indications (Andon display), recording of production numbers and abnormal incidence times, automatic aggregation/charting of operation performance data, and error notifications, are incorporated.

Ability to import production plan data via a CSV file
Captured production planning data in CSV format not only allows display of the actual production volume, but also enables display of progress against the production plan (operation time and production volume).
Example: Bar graph showing the progress (progress/delay) of the plan to produce 1000 units in the morning.
Can be combined with sensors and data collection equipment
Combining clamp-type current sensors, data acquisition equipment, PLCs, etc. enables optimum system configuration. It can also be linked to a MitaMon starter kit. (We propose optimal methods for acquiring data from facilities, including introduction of data collection equipment, and system configuration according to your requirements.)
Setting Up and Monitoring from a Web Browser
A web browser interface can be used to make settings from the browser and check the status from various locations within the facility. It also supports monitors such as PCs, smart phones, and tablets.
Applications
Improved operation rate of recording and visualization of production volume and production progress, cycle time, and operation rate on multiple manufacturing lines, automation of calculation work (reduction of man-hours)
* Especially for the manufacturing industry, which mass produces the same products
Lead time
2 weeks after order
Sales forecast
FY2020 40 million yen
FY2021 100 million yen
Release date
November 1, 2020
Market
This product will only be available in the Japan domestic market, as the software only supports the Japanese language.