Research and Development
The Tsubaki Group continues to accelerate the technological development that will lead to a more robust technological foundation as well as the emergence of new products and businesses. Through this effort, we are introducing the concept of Linked Automation, a technological innovation that contributes to higher functionality and advanced automation while also addressing the societal issues set forth in our Long-Term Vision.
Tsubaki's Basic Technology
Tsubaki's wide-ranging business evolution, from parts and units to modules and systems, is rare in the industrial world and represents a significant asset. As a manufacturing company, we remain focused on strengthening individual technologies while simultaneously promoting research and development with an eye to the next generation. We are accomplishing this by refining our core technologies, developing more advanced technologies, and rapidly acquiring next-generation technologies, which are the foundation of these efforts.

Tsubaki's Core Technologies
(Demonstrating technological superiority through innovation)
Winding Transmission and Conveyance Technology

Our power transmission technology is driven with high efficiency with a winding mechanism represented by a chain. Since our founding, we have constantly refined and handed down this core technology, and it now serves as the source of the Tsubaki Group's Profits.

Optimizing Technology

Our technological expertise combines in-house products and technologies designed to solve customer issues with precision. The Tsubaki Group's strength is the ability to proactively incorporate technologies from other companies when necessary in order to continue addressing customer needs.

Mass Production Technology

Our monozukuri approach to manufacturing technology accommodates high-quality, high-mix, and variable-volume production, as demonstrated by our industrial chain and timing chain system products.
Next-generation technologies
(The core technologies required to address societal issues)
Composite and Systemization Technology

These technologies optimize and integrate multiple devices and facilities that provide different functions. For example, they link the technologies of each business division with technologies provided by other companies, or they integrate mechanical, control, and information technologies.

Advanced Automation Technology (including unmanned operation)

These state-of-the-art automation and unmanned operation technologies are adopted for assistive devices used in healthcare and the like. They also encompass the Internet of things and artificial intelligence, soft robotics, high-performance control, sensing, information and communications, unmanned distribution, agriculture, and the life sciences.

Environmental Technology

Our environmental technologies are intended to contribute to long service life, weight reduction, miniaturization, high strength, quiet operation, and the adoption of innovative energy-efficient materials. These include optimization, evaluation, and systemization technologies.
Basic Technologies
Materials/surface treatments
Tribological technology

Analysis and estimation/measurement/evaluation technologies

Electrical/control/information/communications technologies

Data analysis/machine learning
Research and Development System
As technological innovation continues to advance at a remarkable pace, our R&D Center plays a central role in the Tsubaki Group's technological development.
"Creating an Exciting Future," the basic policy of our R&D Center, is intended to drive Tsubaki's unique technological development. The goal of this effort is to strengthen our core technologies and develop products and technologies by demonstrating agility through collaboration among our business divisions. Without remaining bonded to our existing areas of expertise, we actively introduce cutting-edge technologies through open innovation. By infusing our core skills with advanced technologies, we can rapidly develop innovative products and technologies.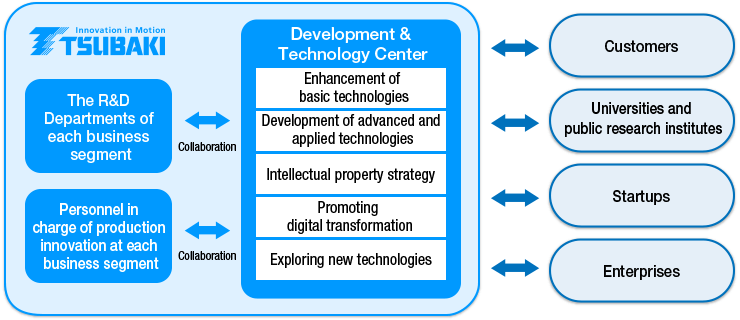 Functions of the R&D Center
| | |
| --- | --- |
| Enhancement of basic technologies | Strengthen our basic technologies related to materials, surface treatments, processing, lubrication, control, evaluation, and analysis. |
| Development of advanced and applied technologies | Acquire and integrate advanced technologies and skills such as artificial intelligence, the Internet of things, digital transformation, and tribology. |
| Co-creation with the various business divisions | Develop commissioned themes (new products) from business divisions that require initiatives from a medium- and long-term perspective and horizontally deploy advanced technologies. |
| Intellectual property strategy | Undertake global expansion of intellectual property strategies in collaboration with the various business divisions. |
| Development of new themes | Develop new themes such as promoting the digital transformation and development of EV-compatible products. |
| Exploring new technologies | Seek out the new technologies required to achieve our long-term vision through backcasting. |
Trends of R&D Costs and Ratio of R&D Costs to Net Sales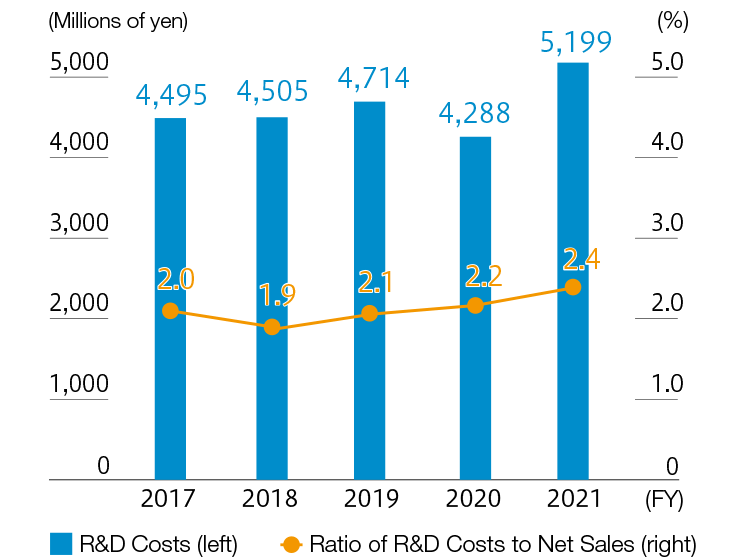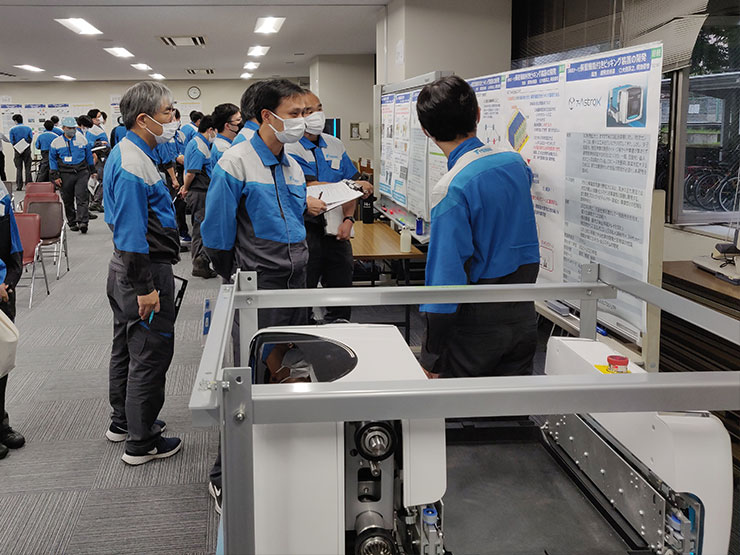 The Process of Inspiring Innovation
The Tsubaki Group is focused on generating opportunities for co-creation. This involves supporting open innovation and strengthening cross-divisional deployment with the various business divisions, as well as developing an environment in which our engineers naturally seek to innovate.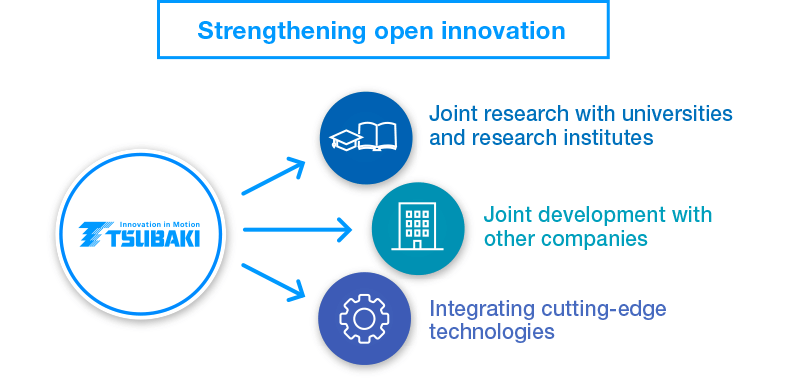 ■ Open innovation (joint research with universities and research institutes)
In order to quickly overcome highly technical challenges, we engage in joint research with various university laboratories.
■ Joint development with other companies
We actively incorporate the expertise of startups and other companies through the collaborative system we have developed.
■ Integrating cutting-edge technologies
By inviting external researchers to give lectures, providing opportunities for international study (doctoral programs) at partner universities through collaboration between industry and academia, and assigning staff for MOT training, we adopt cutting-edge technologies and actively create opportunities for interaction with external engineers to improve our technical capabilities and creativity.
■ Sharing and utilizing technical information
We promote the sharing and visualization of technical information such as experimental data. In addition, through company-wide cross-divisional deployment, we are strengthening the sharing of technical information and reciprocal communication by holding technical exhibitions, conducting thematic committee initiatives regarding materials and analysis, and conducting engineer exchanges.
■ Developing and training young engineers and improving job satisfaction
In addition to our Group's common engineer development training at the Tsubaki Techno School, the R&D Center promotes its own training system based on the engineer competence map. As well, our experienced veteran engineers provide technical guidance to our younger engineers. With this comprehensive curriculum, we aim to strengthen both the technical skills of individuals as well as our overall organizational capabilities.
Recent R&D Themes
For information on our latest research and development themes, please refer to the Tsubaki Technical Review, our technical information magazine series.
Technical Journals (Japanese Only)