Research and Development System and Intellectual Property
In an effort to further strengthen product competitiveness in the face of fierce global competition, Tsubakimoto Chain is dedicated to improving its technological base and promoting the development of new products and businesses.
1. Research and Development System
Taking on new technological challenges and aiming for new products and businesses is an essential factor in strengthening the competitiveness of Tsubakimoto Chain products. As such, technology is one of the most important management foundations and a major factor underpinning competitiveness.
The Tsubaki Group has continually invested in strengthening its technological capabilities. The two divisions with central roles both in this effort and in research and development are the Technology and Research Development and New Business Development divisions.
The Technology and Research Development division continually strengthens the company's basic and advanced technologies such as surface treatments, processing, lubricants, control, evaluation, and analysis. This division quickly applies its research achievements that directly relate to a specific business, aiming to improve development productivity.
Meanwhile, the New Business Development division focuses on developing new products and businesses in cooperation with each business division. By establishing close relationships with external institutions such as universities, the division is advancing research and development into cutting-edge technologies. The division also has jurisdiction over our existing agribusiness, PCS business, and automotive products.
Trends of R&D Costs and Ratio of R&D Costs to Net Sales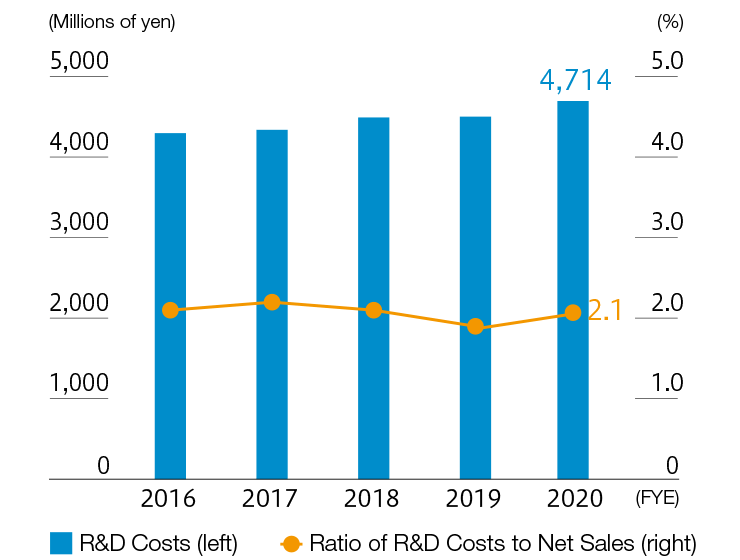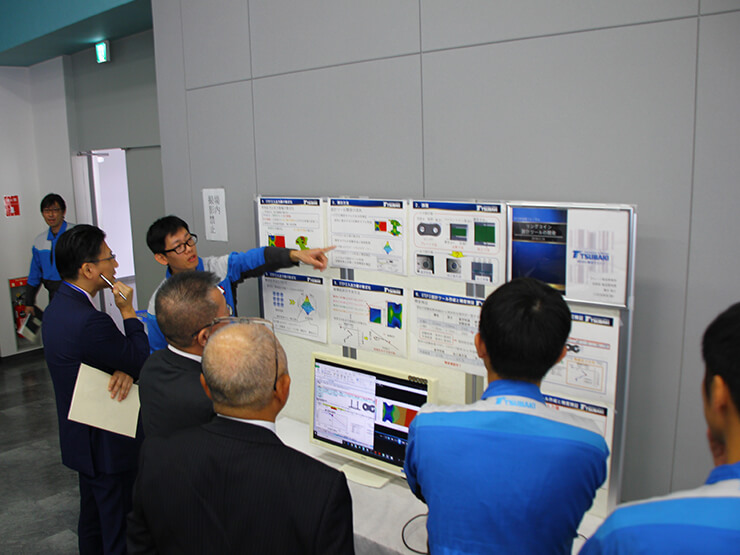 Proactive Open Innovation and Cultivation of Human Resources
Technology Business Consultations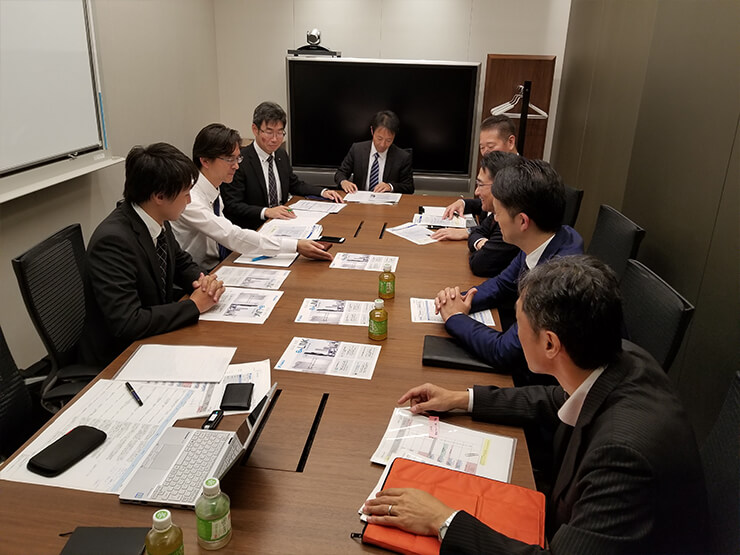 Geared toward matching companies together, Technology Business Consultations offer participants an opportunity to search for business partners in solving problems and to create new business opportunities. In FY 2019, Tsubakimoto Chain received proposals for seven different themes from 28 companies and held individual consultations with each company. In this way, Technology Business Consultations provide an opportunity to propose new approaches and to explore findings with an eye toward possible collaborations.
Technology Exhibitions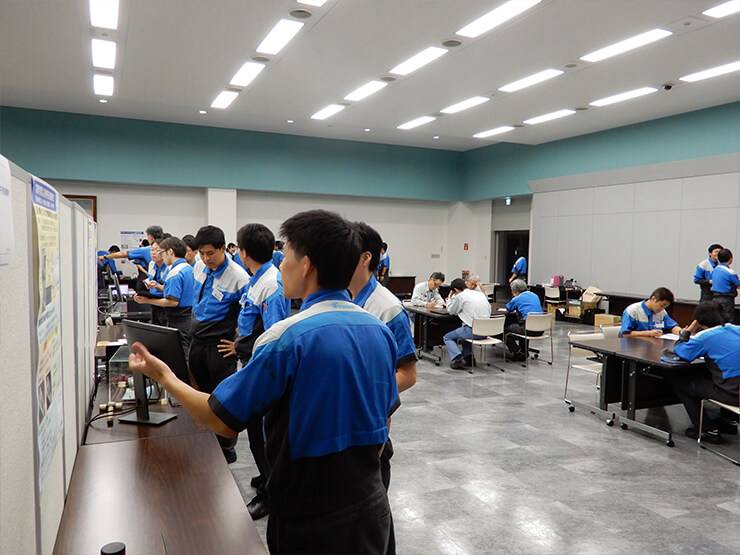 Every year, the Tsubaki Group holds technology exhibitions at its major sites. These exhibitions offer young developers the opportunity to present their findings on research related to materials, mechatronics, AI, and various other technologies. Engineers from the Products Engineering Department and Manufacturing Engineering Department at each location are able to present their findings and engage in lively discussions with other employees. This opportunity to exchange technical information not only enhances the overall strength of the Group but also works to inspire and motivate young engineers.
Technical Meetings with Overseas Subsidiaries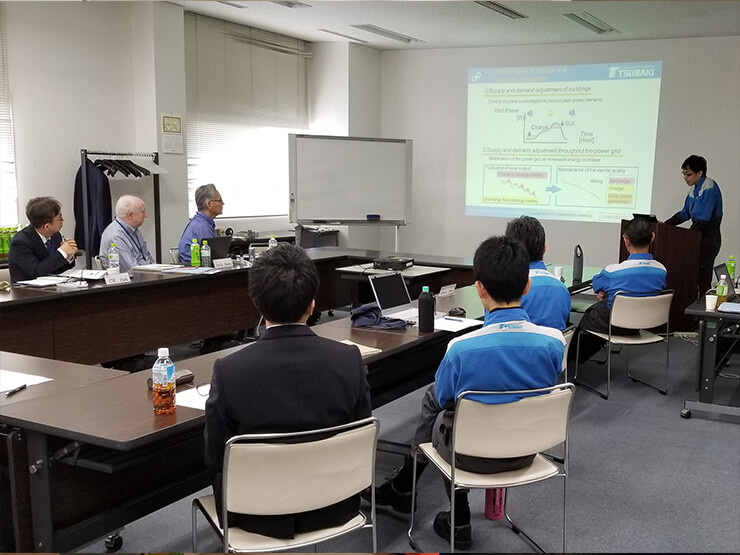 Tsubakimoto Chain holds technical meetings with engineers from overseas subsidiaries to share technology and explore new business opportunities. Discussions generally cover a wide range of topics, from immediate technological issues to exploring new MaaS- and CASE-related business. These meetings facilitate cooperation between the Products Engineering Departments of domestic and overseas companies in pursuing R&D findings as well as cultivating human resources through a global perspective and an understanding of the latest technological trends.
2. Global Intellectual Property Strategies
The Tsubaki Group is globally advancing aggressive intellectual property strategies by extending patent application and acquisition of industrial property rights in Japan and overseas through an approach aimed at strengthening product competitiveness. Guided by this strategy, the number of patents held by the Group has been increasing, and as of the end of the fiscal year ended March 31, 2020, we held 838 patents in Japan and 1,209 overseas for a total of 2,047 patents.
As the Tsubaki Group has been promoting the rapid expansion of its business in China, emerging countries, and other parts of the world, the expansion of patent application efforts and thorough measures to prevent infringement of intellectual property rights in these countries is an important and ongoing task. We applied for 130 patents in these regions and increased our coordination with overseas patent offices during the fiscal year ended March 31, 2020.
Tsubakimoto Chain's intellectual property division centralizes affairs regarding the application of industrial property rights and the prevention of infringement, while the legal affairs division has established internal regulations on managing confidential business information and spearheads Groupwide management of information on confidential technologies and business information in cooperation with the intellectual property division.
Similarly, these two divisions also cooperate on the drafting and review of contracts.
Basic Policy on Intellectual Property
1.

Philosophy

In addition to strategically producing intellectual properties and obtaining the rights, we will also reinforce our business competitiveness by proactively protecting and utilizing intellectual property.
2.

Basic Policy
(1) With the relevant departments working together as one, we implement strategic intellectual property activities.

(2) Through a multifaceted perspective, we actively pursue the developments of products based on advanced technical skill and the creation and effective utilization of intellectual property.

(3) Our intellectual property division trains strategic IP personnel and raises the IP skills of various business divisions.

(4) In the event of a third party infringing our intellectual property rights we pursue firm countermeasures.

(5) The various departments cooperate to achieve the appropriate brand strategy.

(6) We respect the intellectual property rights of third parties, and do not infringe upon them.
⁎ The term "intellectual property rights" refers not only to the patent rights, utility model rights, design rights, and trademark rights that come into effect through patent office procedures (collectively referred to as "industrial property rights"), but also to the rights that come into effect without the need for a procedure, namely copyrights and trade secrets (know-how).
Upward Trend in Number of Patents Held by the Tsubaki Group