Initiatives Regarding Climate Change
At the Tsubaki Group, we recognize that climate change poses a tremendous physical risk in the form of not just temperature rises but also an intensification of natural disasters such as flooding and torrential rains. On the business front, too, we recognize that while the shift to be carbon-free poses a risk of greatly impacting the Tsubaki Group's business operations, business domains, and product concepts, by implementing proper countermeasures, we can strengthen our corporate structure and improve our competitiveness, as well as avail of opportunities to break into new markets and businesses. Going forward, we will treat climate change as an issue of critical importance both as a risk and an opportunity.
As one aspect of that, the Tsubaki Group has begun preparations to participate in the Task Force on Climate-related Financial Disclosures (TCFD). We are engaged in various initiatives, such as dissemination of the recommendations of the TCFD, development of guidelines for recommended disclosure content and methods, and Group-wide scenario analysis trials. Going forward, we will continue to do our utmost to disclose information on the risks and opportunities of climate change, as recommended by the TCFD.

* TCFD (Task Force on Climate-related Financial Disclosures): A task force that was established by the Financial Stability Board (FSB) in response to a request made at the G20 Finance Ministers and Central Bank Governors Meeting.
Strategy (Scenario Analysis)
Priority Evaluation of Risks and Opportunities
We have categorized the various individual risks and opportunities associated with climate change into Transition and Physical, and for each risk/opportunity we have designated its impact as High, Medium, or Low based on its relative level of priority.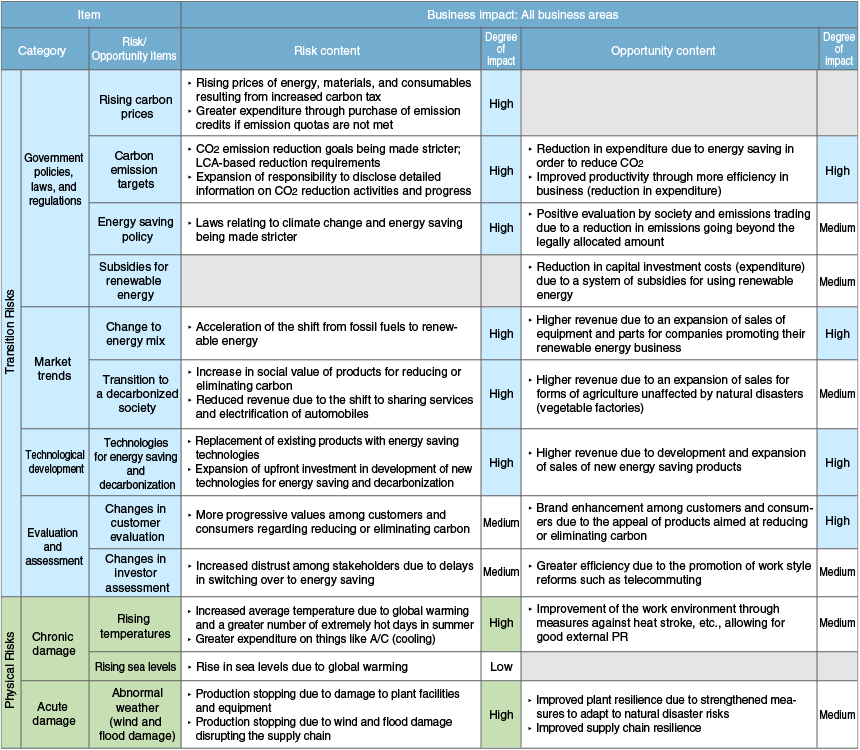 Scenario Group Definitions
We have analyzed the risks and opportunities of climate change by imagining the world of 2030 in two different scenarios: one in which we have transitioned to a decarbonized society that has limited the anticipated temperature rise to 1.5°C, and another in which the anticipated temperature rise has reached 4°C.
4°C Scenario

: A world in which the average temperature will have risen by more than 4°C or more by the end of the century, if no further action is taken other than what is expected. This will result in changes such as natural disasters becoming even more severe.

1.5°C Scenario

: A world in which measures are being taken to reduce climate change, and greenhouse gas emissions will have been practically reduced to zero by 2050.
Impact of Climate Change on Tsubaki Group Management
We are considering the effect (impact) that both of the above scenarios will have on financial indicators.
The diagram below shows the impact that the risks and opportunities will have on both the income (increase/decrease in net sales) and expenditure (increase/decrease in profit) on our performance statements. There are numerous transition risks and opportunities associated with climate change, and these are shown to have positive and negative impacts on both net sales and profit. The single most important issue for us could be considered to be how to minimize the risks and maximize the opportunities. In the future, we believe it will be important to draw up scenarios for each business unit, and to analyze the impact on their respective performance statements (sales and profits) and balance sheets (investment plans and the like).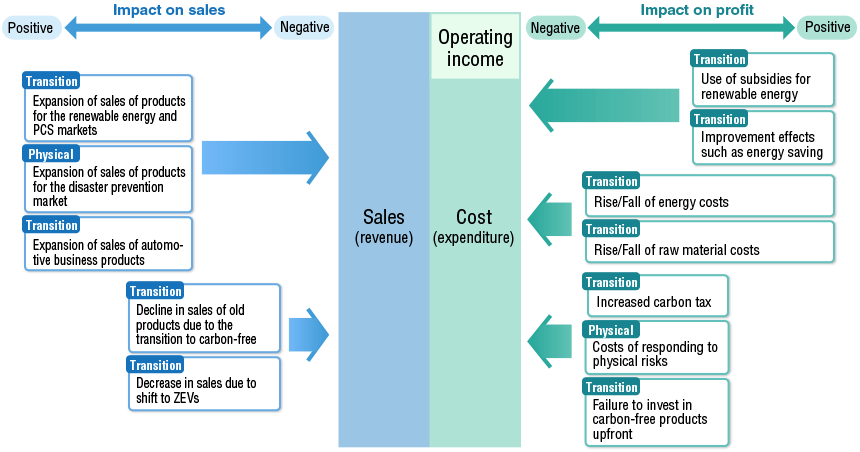 Countermeasures for Both the Risks and Opportunities of Climate Change
The table below shows the measures we intend to take to achieve minimized risk and maximized opportunity with regard to climate change.
Transition Risks and Opportunities


In existing business segments and the managerial systems of all Tsubaki Group companies, it is necessary to operate both defensively and offensively with regard to both the risks and opportunities. As for new business areas, the most important matters for us will be the development of new products, the speed at which we develop such new products, and expansion into new business areas to respond to the latest paradigm shifts such as decarbonization and creation of a recycling-oriented society.

Physical Risks


We understand that it is important that our countermeasures against the various physical risks posed by climate change not simply consist of hedging the risks, but also must improve the resilience of our business and further strengthen our business base.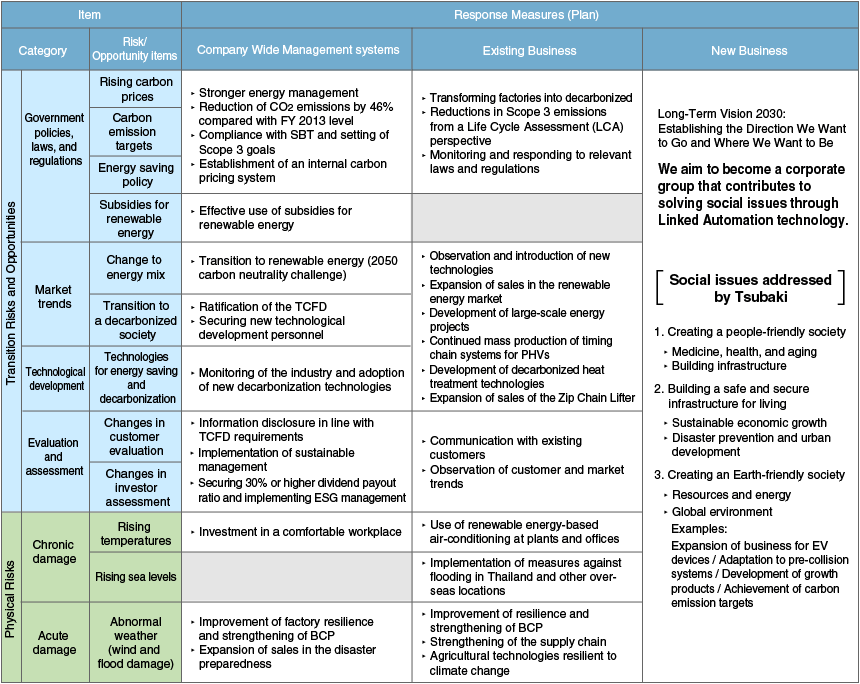 Risk Management (Identification, Evaluation, and Management of Material Issues Related to the Environment)
Here at Tsubakimoto, in order to evaluate the importance of CSR issues related to the environment, society, etc., in FY 2019 a decision was made regarding the importance both to the company and to the multi-stakeholders, after discussions among the directors in charge of ESG-related divisions. In the early part of FY 2020, we established KPIs and goals for each of the material issues. We also initiated activities (PDCA) intended to systematize our activities to date and work on medium- to long-term issues as management issues. In the latter part of the year, we established a cross-functional team (CFT) to promote sustainability, and this CFT oversees and manages these activities.
In the first half of FY 2021, we established the Tsubaki Group Long-term Vision 2030 with FY 2030 as the target, which set out both the direction of our path forward and what we want to be. In this process, we have identified the risks and opportunities that can be expected from the future social environment, and clarified the CSV issues that Tsubaki should work on going forward, as well as the role we should play.
When extracting material issues related to the environment, firstly, with regard to the importance of environmental issues in the overall sustainability agenda, we evaluate both the level of importance to our business management (horizontal axis) and the degree of importance to stakeholders (vertical axis). In addition, with regard to the degree of importance of various environmental issues, the degree of importance to stakeholders (vertical axis) is evaluated based on the magnitude of the negative side (risks to be reduced) and the positive side (opportunities to improve financial indicators).
Indicators and Goals
The climate change monitoring indicators are, as indicated below, both quantitative and qualitative.
Note that the goals indicated below have been established based on the assumption that the end goal is to reach carbon neutrality by FY 2050.
Quantitative Indicators and Goals
Reduction rate (%) for the total annual emissions of greenhouse gases for the entire Tsubaki Group (ton-CO2)
[Goal values]
Goal
Current achievement
FY 2025
FY 2030
FY 2020
Scopes 1 and 2 for domestic business sites
(compared to FY 2013)
30% reduction
46% reduction
23.5% reduction
Scopes 1 and 2 for overseas business sites
(compared to FY 2018)
≥20% reduction
≥30% reduction
9.0% reduction
* The details are posted on Initiatives for Reducing Environmental Impact: Activities Meant to Reduce Total CO2 Emissions.
Qualitative Indicators and Goals
Our score under the Carbon Disclosure Project (CDP)
[Goal]
Get a score of A− or better by FY 2025
[Current status relative to the goal]
Score as of FY 2020: B−
Priority Matters for Achievement of Goals
Identify issues, set goals, and reduce emissions under Scope 3 with a view to addressing SBT
Reduce indirect emissions under Scope 1 (direct emissions from combustion of protective gases, heating of heat treatment furnaces, etc.) and Scope 2 (by heating with an electric heater in a heat treatment furnace) in the heat treatment processes of various manufacturing sites
Consider, plan, and implement all options, including expansion of on-site power generation from renewable energy sources, purchase of carbon-free electricity, and participation in emissions trading