Coexisting with Local Communities
Basic Concept
The Tsubaki Group's manufacturing and sales bases extend to 26 countries and regions worldwide. In addition to contributing to society through our business activities, we understand the culture and laws/regulations that differ depending on the country and region, and conduct a variety of activities rooted in the specific circumstances of each location.
Initiatives in Japan
Social Contributions
As a member of the local community, in addition to active communication with the local people, we conduct a variety of social contribution activities.
eLINK V2X Bi-Directional EV Charging Systems Donated to Three Cities to Support Disaster Prevention and Mitigation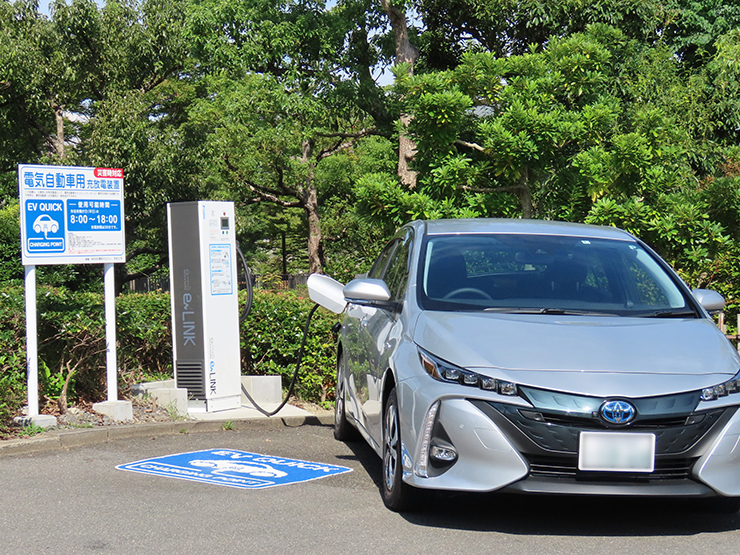 Tsubakimoto Chain donated eLINK V2X bi-directional EV charging systems to three cities (Kyotanabe, Hanno, and Nagaokakyo), for use in disaster prevention and disaster mitigation measures in the cities where our main plants are located.
Tsubakimoto Chain President Ohara demonstrated use of the eLINK system with an electric vehicle to Kyotanabe Mayor Takashi Kamimura at the Kyotanabe City donation ceremony held on June 6, 2020, and then to Nagaokakyo Mayor Kengo Nakakoji at the Nagaokakyo City donation ceremony held on July 22, 2020. (The eLINK system was installed in Hanno City at the end of 2020.)
With the eLINK system, electric vehicles can be used to supply electricity to municipal halls serving as emergency response headquarters in the event of a power outage following a major disaster or other event. The eLINK system will also be freely available to the public as an electric automobile charger during normal times.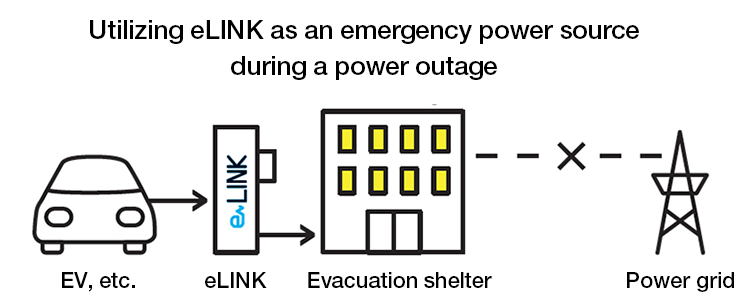 Donation of Old Work Clothes to Zambia through Volunteer Organizations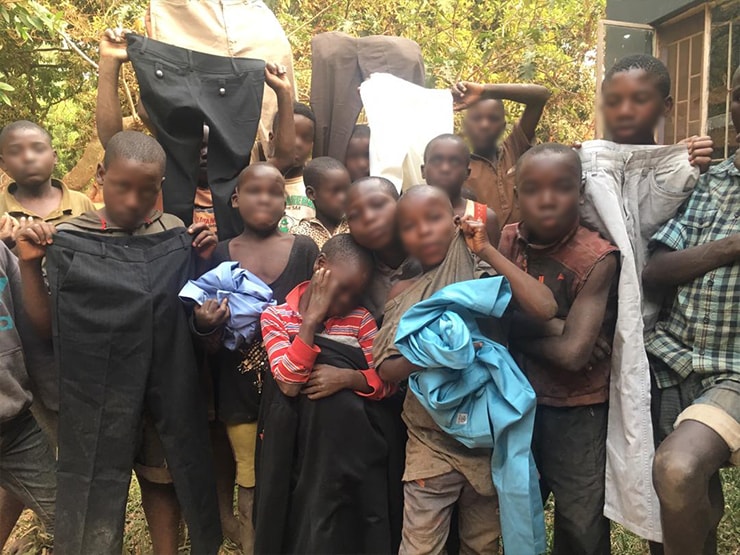 During the changeover of old work clothes in 2017, collected clothing was donated to Zambia through the Zambia Association, a volunteer organization. The work clothes were sent to the volunteer organization after we removed the logos. Due to regulations on transportation in Zambia and other factors, it took a long time for the products to reach the local area, but we have been informed that the clothes were received safely, and we received a photograph showing Zambian children receiving our donations.
This donation began with the idea of avoiding waste to disposal at cost. Going forward, we will continue to carefully implement awareness without overlooking the social contributions that we can make as a company. (Tsubaki Yamakyu Chain Co.)
Nurturing the Next Generation
We plan and host events designed to deepen understanding of manufacturing corporations through visiting national institutes of technology to give lectures to students and inviting students from elementary and junior high schools to experience plant tours.
Held the 3rd Tsubaki Future Product Creation Contest at NIT, Maizuru College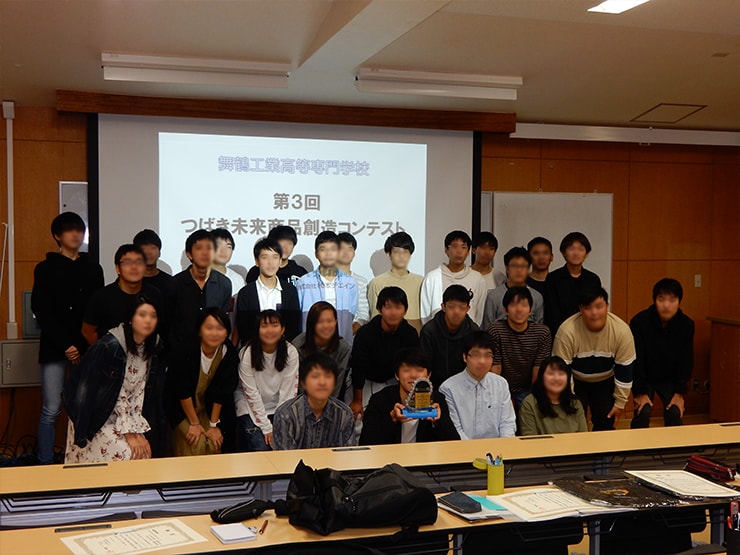 In FY 2019, we conducted a class on the topic of products that make the people of the future happy using Zip Chain Actuators at the National Institute of Technology, Maizuru College. 4th-year students were divided into eight groups, and over a period of approximately two months, they worked on the challenges. This time as well, we had unique proposals for future products based on the free ideas. Lastly, NIT teachers and our development staff judged the proposals and gave an award to the one judged to be the best. The teachers were also greatly inspired by the enthusiastic presentations of each team. (Kyotanabe Plant)
Hosted the 12th Summer Vacation Parent-Child Plant Tour, a Popular Local Event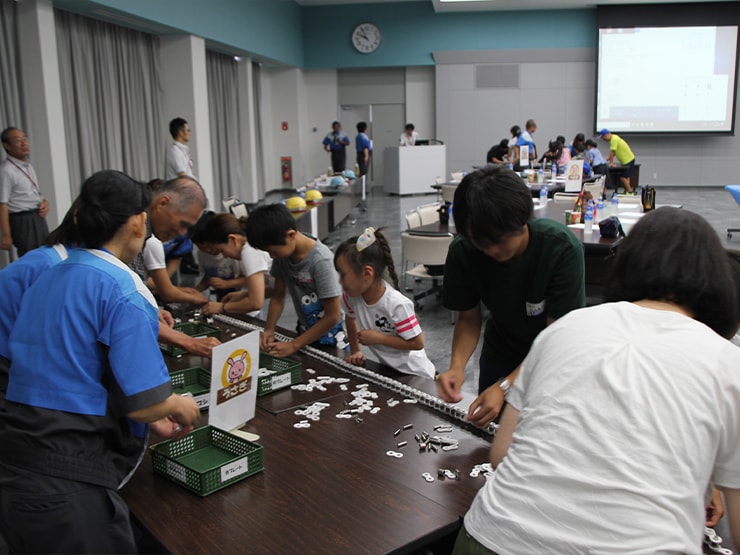 Kyotanabe Plant hosts an annual plant tour for parents and children during summer vacation. There were 738 applicants, more than seven times as many as the 100 invited guests, firmly establishing the event as a popular local event.
This year's theme was "A plant tour where you can learn the SECRETS of chains!" Through quizzes, presentations, etc., we introduced Kyotanabe Plant, gave a company overview, and introduced the different types of chain. After that, we held the popular chain assembly race, a tour of the plant, and a cafeteria experience, which are big hits every year. (Kyotanabe Plant)
Local Junior High School Student Work Experience at the Plant
Iruma Municipal Noda Junior High School conducts career education activities to inform students' view of work and an awareness of what they want to do when they grow up, and to help them become independent as members of society and professionals in the future. As part of this program, 21 students from the school visited the Saitama Plant. After our overview explanation, we were asked the kind of genuine and frank questions that are unique to first-year junior high school students, such as: "Why are you able to continue to work?" "What is your job satisfaction?" and "How did you grow personally after joining the company?" The company responders also had the opportunity to reaffirm their work.
In the Kyotanabe Plant, three first-year students from the Kyoto Prefectural Tanabe High School Machine Technology Course toured Kyotanabe Plant and experienced the workplace in order to learn how to make use of daily learning in the real world. We also provided safety education and showed them assembly at the manufacturing site. As part of the lesson, we also held a debriefing session after the manufacturing experience.
Environmental Education
Our environmental activities include community environmental events as well as the cleaning of areas surrounding company buildings, which is done independently by individual Tsubaki locations. Employees actively participate, working to be good members of the community.
Visiting a Local Elementary School to Teach about the Environment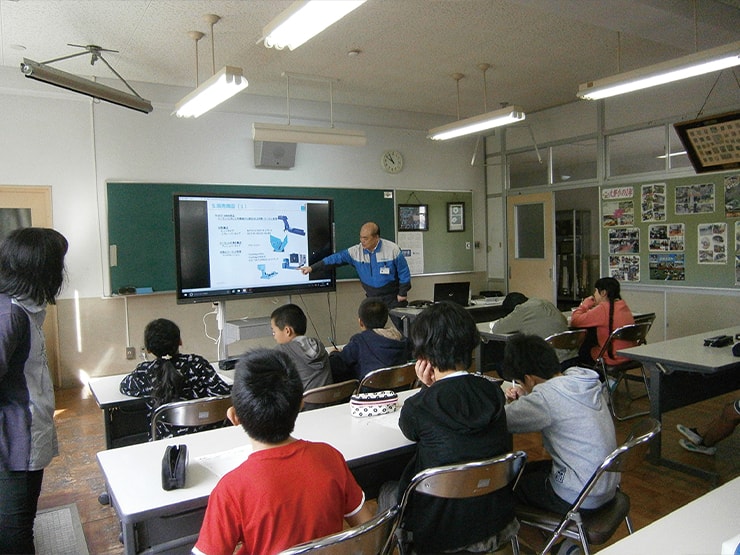 We visited a local elementary school to deliver a class on the environment for 24 fifth-grade students. The children learned about the processes by which industrial wastewater flows into rivers. We also made a presentation on chip conveyors, one of our mainstay products, and introduced our environmental conservation initiatives during the manufacturing process, as well as corporate social responsibility. (Tsubakimoto Mayfran Inc.)
Introducing Environmental Initiatives at Local Events
We participated in local events at various plants to introduce the environmental impact reduction activities at our plants and our efforts to reduce environmental impact through our products.
Connecting with Local Communities
Walking Event Support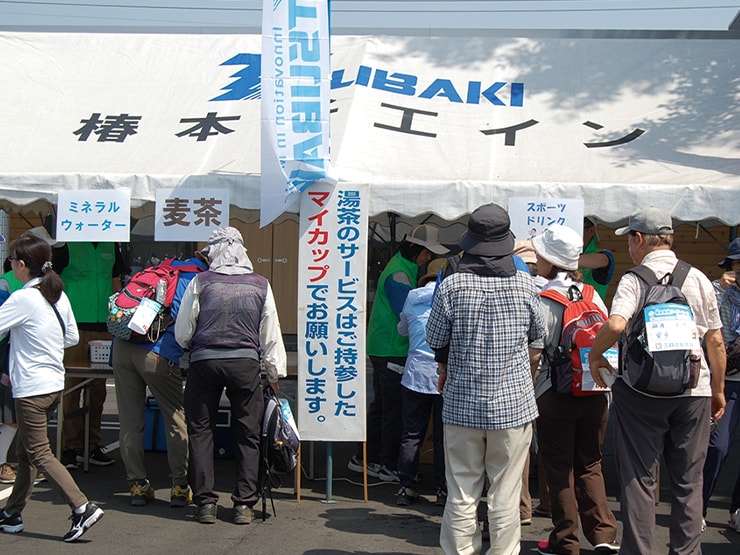 We helped the 16th Hanno Shinryoku Two-Day March, a local walking event, by making Tsubakimoto Chain's recreation facilities available as a resting place for participants. At the recreation facilities, volunteers from the plant's personnel offered beverages and provided support for participants. (Saitama Plant)
Cooperation in Hanno City's Summer Vacation Experience Program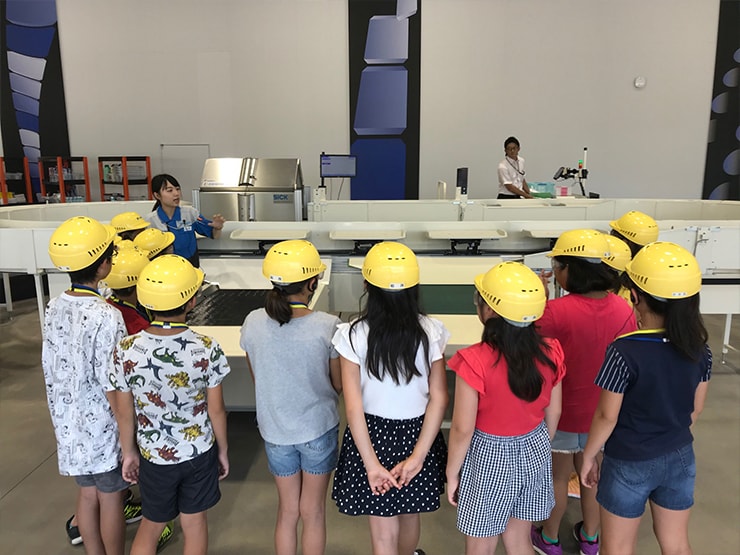 Sixteen elementary school students toured the Saitama Plant as part of an exciting summer vacation activity program entitled "Let's Go and See a Local Plant!" sponsored by Hanno City's Namiyanagi Community Center. At the Materials Handling Exhibition, the kids showed great interest in the demonstration machines such as LiniSort and Zip Chain Lifter (ZCL). The program only allowed for a short plant tour, but the learning experience was thoroughly enjoyed. This is the first attempt in Hanno City, but we plan to continue to cooperate next year and beyond. (Saitama Plant)
Overseas Initiatives
United States
Participation in the Community-Based Volunteer Week
U.S. Tsubaki Automotive, LLC (USTA)
U.S. Tsubaki Power Transmission, LLC (USTP)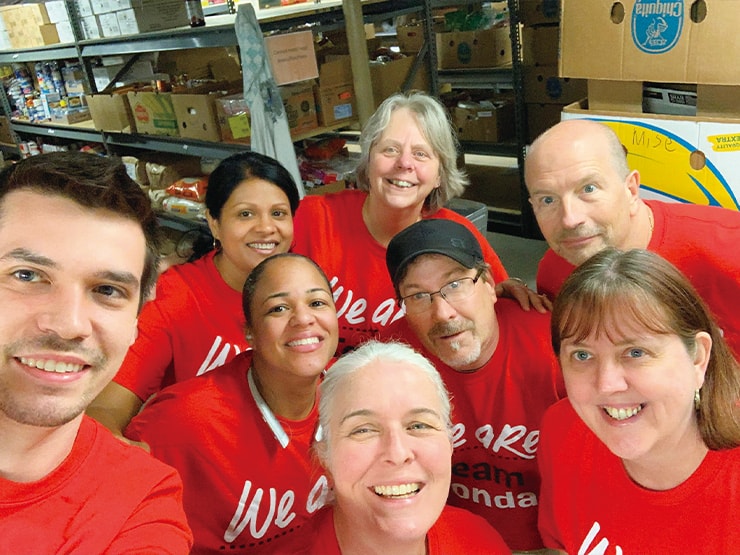 Volunteer Week is organized by a Japanese automobile manufacturer. Approximately 25,000 employees of the manufacturer and its business partners take part as volunteers throughout North America in nearly 600 types of volunteer activities, such as foodbanks, blood donation, and cleaning up parks and beaches. U.S. Tsubaki Automotive, LLC (USTA) and U.S. Tsubaki Power Transmission, LLC (USTP) took part in these activities to rearrange and clean the warehouse of a foodbank and prepare evening meals.
Volunteer Activities with Uniform T-Shirts
U.S. Tsubaki Holdings, Inc. (Tennessee Plant)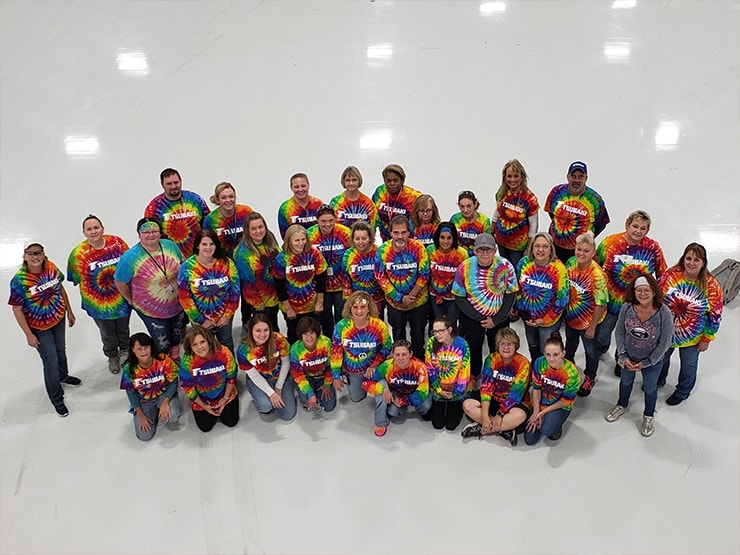 At the Tennessee Plant, employees actively participate in local volunteer activities, such as food drives, donations of supplies to schools and animal protection facilities, and collecting donations for Cancer Support Day. Following the theme of the activity, employees wear uniform shirts to help expand the circle of participants.
Europe
Charity Activities through Participation in a Marathon (Netherlands)
Tsubakimoto Europe B.V. (TEU)
Team Tsubaki from Tsubakimoto Europe B.V. (TEU) took part in the world-famous Rotterdam Marathon. At TEU, donation amounts are based on the marathon finishing time. On this occasion, donations were made to an organization supporting the participation of people with disabilities in sport. Employees were able to take part in this fun charity activity through a company event.
Fundraising Activities by Employees (Germany)
Tsubaki Kabelschlepp GmbH (TKG)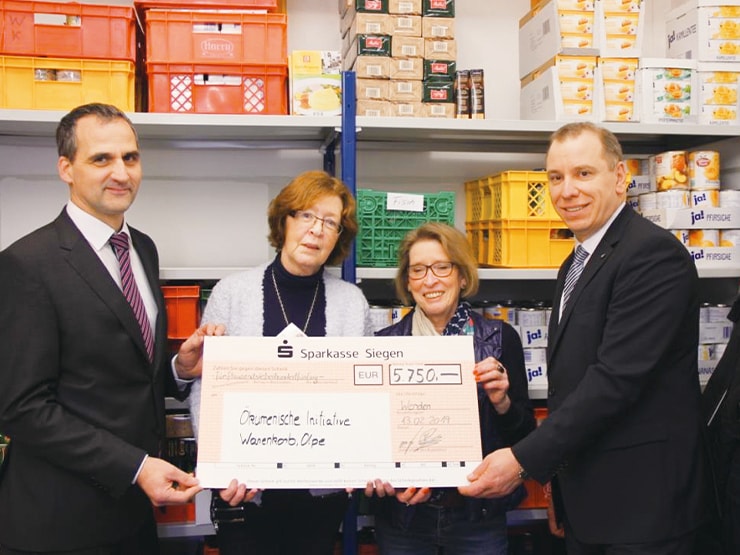 We undertook fundraising activities in order to support the activities of a charitable organization in Olpe, Germany, where management matched the amount of money raised by employee volunteers. This time, the money raised was delivered to a foodbank and two organizations that provide support to children suffering from illness and their families.
Charity Cake Event (UK)
Tsubakimoto UK Ltd. (TUK)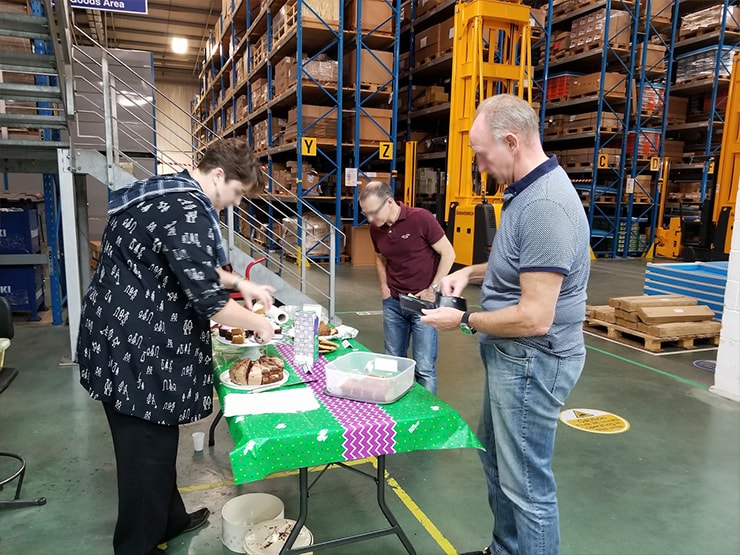 At this charity cake event, handmade cakes were sold and the proceeds donated to a cancer support organization. Our warehouses and offices have employees' hand-made cakes set up, and on this day, even those who don't like sweets will purchase the cakes because the proceeds go to a good cause.
Indian Ocean Rim
29,953 Mangrove Trees Planted in 12 Years (Thailand)
Tsubakimoto Automotive (Thailand) Co., Ltd. (TAT)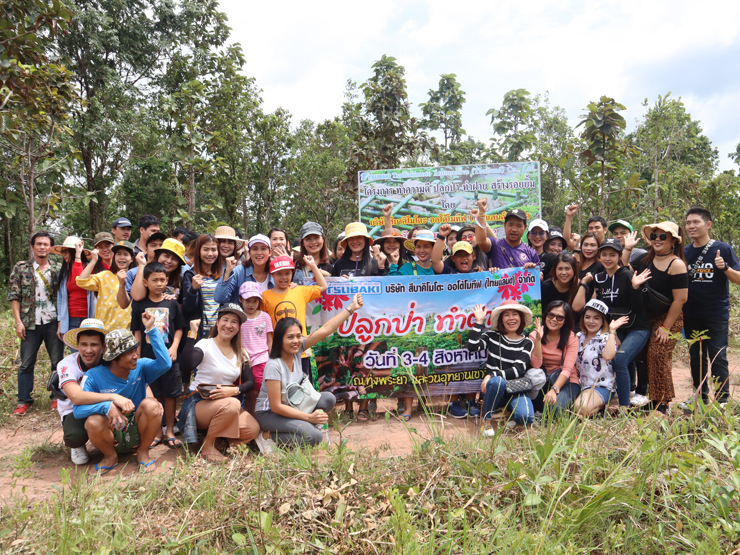 Tsubaki Automotive (Thailand) Co., Ltd. (TAT) began its mangrove-planting activities in 2008. Thanks to the continued expansion of business, the number of employees volunteering to participate has steadily increased, and 2,700 trees were planted in FY 2019.
With 29,953 trees planted in total, this project has reduced about 374.42 tons of CO2 over 12 years. These steady and continuous activities have contributed to global warming countermeasures.
Joint Indian and Japanese Community Contribution Activities (India)
Mahindra Tsubaki Conveyor Systems Pvt. Ltd. (MTC)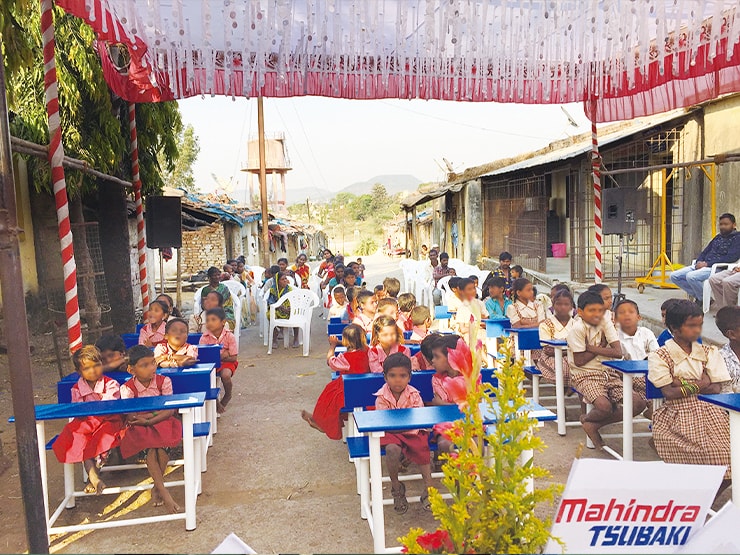 In the spirit of mutual assistance, corporations and other entities in India are required to donate 2% of their profits to support underprivileged communities and organizations. At Mahindra Tsubaki Conveyor Systems Pvt. Ltd. (MTC), in partnership with Tsubakimoto Bulk Systems Corp., 20 sets of desks and chairs, cabinets, tables for computers, and colored pencils were donated to a local elementary school.