Tsubaki's Sustainability Plan
Basic Concept
Since its foundation, the Tsubaki Group has endeavored to achieve sustainable growth by fulfilling its corporate social responsibilities and at the same time contributing to society through its business activities. This is truly the practical implementation of the Mission stated in our corporate philosophy (to advance the "art of moving" beyond expectations), and we believe it will directly contribute to the SDGs* that represent the challenges currently facing the global community.
In April 2020, we established a Basic Policy on Sustainability with the aim of systematically promoting these activities. Under this policy, the Tsubaki Group as a whole will work together to innovate technologies and solve social issues. Simultaneously, we, as a manufacturing company, will promote mutual communication with our stakeholders and contribute to the realization of a sustainable society.
* SDGs: An abbreviation of Sustainable Development Goals; the United Nations' international goals for achieving a sustainable and better world by 2030.

Basic Policy on Sustainability
The Tsubaki Group will contribute to the creation of a sustainable society through business activities based on the "Tsubaki Spirit", its corporate philosophy, while improving its corporate value through technological innovation and aiming to remain a company that society needs. In addition, we will enhance management transparency and deepen relationships of trust through communication with our stakeholders.
Promotional System
The Tsubaki Group has tackled a variety of sustainability issues through its risk-management, environmental, and quality committees that include participation from Group companies in Japan. With the aim of systematically promoting this activity with a mid-and long-term perspective, we launched a project with the main committee chairman as a member. From a global perspective, we identify priority matters (material issues) and set indicators (KPIs) and targets to strengthen our activities.
Tsubaki's Sustainability Priority Matters and Guidelines
At the Tsubaki Group, we first set priority matters (material issues) and targets (KPIs) from the CSR side under our Basic Policy on Sustainability.
With regard to the social issues that will be resolved through our core business (our products)—namely, CSV issues—we will work from a medium-to-long term perspective as a business issue for the new Mid-term Management Plan that will be launched in FY 2021 in anticipation of "how the Tsubaki Group should be in 2030" as outlined in our current medium-to-long term vision.
These initiatives contribute directly to the SDGs, and clarifying the relationship between them will help raise employees' awareness thereof.
Process for Identification of Material Issues (Priority Matters) Regarding Sustainability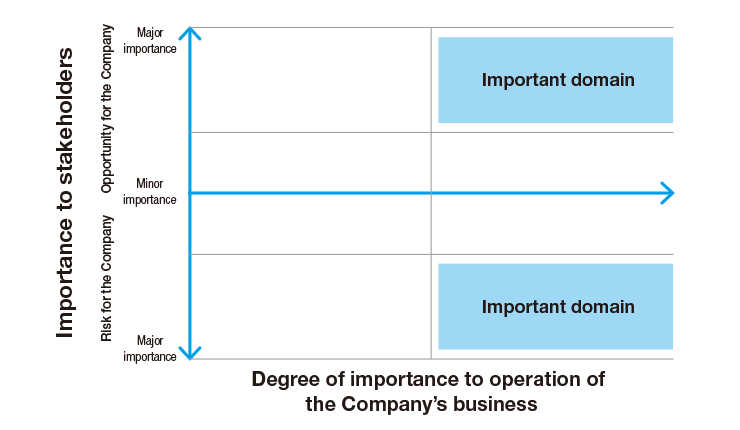 1.To identify material issues from the dual perspectives of risks and opportunities regarding sustainability, responsible divisions identified and evaluated their own issues leveraging the 17 SDGs.

2.Defined and evaluated risks and opportunities based on their importance to stakeholders and importance to the Company (including the gap between what the Company currently is and what it strives to be), using the matrix on the right.

3.Carried out repeated discussions centered on responsible officers regarding the degree of importance to the Group as a whole based on number 1) and defined material issues (selection).
Material Issues (Priority Matters) and KPIs (Key Performance Indicators)
ESG Category
Material Issues
(Priority Matters)
KPIs
Contribution to the SDGs

E
Environmental conservation
Climate change countermeasures
Climate change mitigation measures (CO2 emission reductions) and other environmental conservation

Total CO2 emission reduction

CDP Climate Change Response Boundary Rate (*1)
CDP climate change score
Waste recycling rate
PRTR-substance emissions
Number of violations of environmental laws and regulations
S
Safe and rewarding workplaces
Respect for human rights
Number of companies implementing ethics education

Promotion of diversity
Ratio of employees with disabilities
Ratio of companies meeting legally required employment ratios for people with disabilities
Number of non-Japanese employees
Ratio of senior female employees
Work style reforms
(improve motivation and operational efficiency)
Ratio of paid leave acquisition
Cultivation of human resources
Education plan implementation rate
Ensuring employee safety and well-being
Number of accidents resulting in absence from work
Ratio of high stress employees
Provision of safe and reliable products

Quality assurance
Number of major quality issue occurrences (*2)
Sustainable procurement
Cooperation with suppliers
Number of companies streaming the CO2 emission reductions webinar
Number of companies implementing CO2 emission reduction status surveys
Number of sustainability guidelines issued (*3)
Addressing conflict minerals
G
Sound, fair, and transparent business operations

Thorough compliance
Number of serious violations of Company regulations

Number of companies that participated in Corporate Ethics Awareness Month
Crisis response and Business Continuity Plan
Disaster preparedness and evacuation drill implementation rate
Information security
Number of serious system incident occurrences
Number of information security accident occurrences
Prevention of intellectual property infringement
Number of warnings received due to infringement of other companies' rights
Scope: (within Japan) Tsubakimoto Chain and domestic consolidated subsidiaries; (global) major subsidiaries both domestic and overseas
*1: CDP Climate Change Response Boundary Rate: Percentage of response accounted for by the entire Group on a global basis using the CO2 emissions standard in the fiscal year covered by the CDP survey
*2: According to an internally established definition
*3: A theme for which we began initiatives in FYE 2021