Quality Management (Customers)
Basic Concept
Based on the Tsubaki Spirit corporate philosophy, the Tsubaki Group is dedicated to maintaining and improving the Tsubaki brand as a manufacturing company through the pursuit of superior quality and thorough quality assurance.
Basic Quality Policy
We do not pass defects on to the subsequent job process.
We will all follow the rules, and make quality products.
Basic Quality Policy is based on the following principles.
We will reaffirm our focus on our customers.
We will apply the concept of 'zero defects' to our own work, and not pass any defects along to the next process, thereby ensuring quality each step of the way.
We declare that every single person within the organization will have a sense of ownership and do a great job.
We will look back to our founding principle of "making quality products" and start a new page in Tsubaki history.
"Making Quality Products" as the Starting Point of Manufacturing
Our founder, Setsuzo Tsubakimoto, began manufacturing chains in 1917. When he was excited but had misgivings about the development of a new business, he would remember something that the president of the spinning company that he worked at previously told him when he quit: "Make quality products." No matter what you're making, make quality products. Our founder took this lesson firmly to heart and made sure all his employees knew it. This determination 100 years ago was the start of our manufacturing and has been passed down today as our DNA.
System for Promoting Quality Management
We have established a system for promoting quality management led by the Tsubaki Group Quality Committee.
In April 2018, to further ensure the effectiveness of these efforts, we established the Quality and Environmental Promotion Department as a headquarters operations overseeing the entire Group, and the Quality Managers Committee as a cross-organizational implementation body. In addition to traditional quality control assurance activities in each division, the Company conducts audits from a third-party perspective, formulates Group quality guidelines, and implements cross-organizational activities to improve quality. Through such methods, we not only aim for zero defects in quality but also to strengthen our system and abide by our promises to our customers. In doing so, we are strengthening the governance of quality management while maintaining and improving the Tsubaki brand.
System for Promoting Group Quality Management

Framework for Strengthening the Quality Management System
Quality Management System
The Group has obtained ISO 9001 certification, the international standard for quality management systems, at its manufacturing bases in Japan and overseas. As such, we have established a framework for quality management based on the ISO.
Quality Education and Human Resource Interactions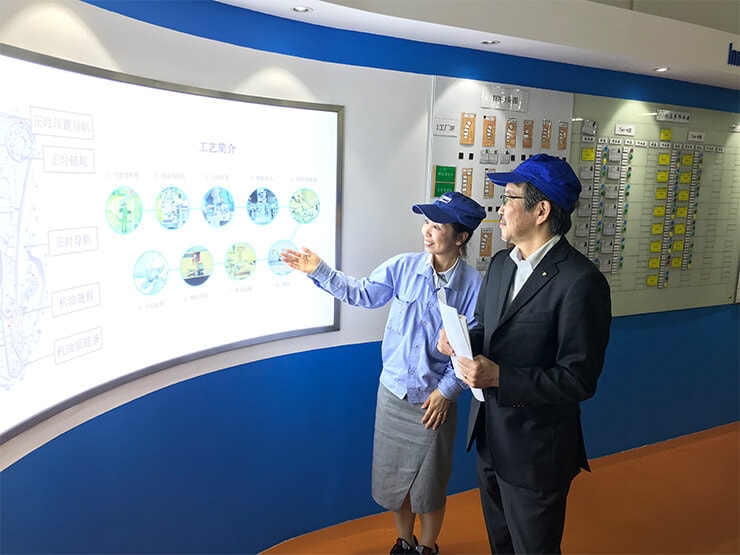 The Group aims to improve quality management skills by developing level-specific education on "quality" and "improvement" in its Companywide educational system. As we move forward, we will enhance quality specialist education centered on the Quality and Environmental Promotion Department, such as providing education on statistical methodology, nurturing lecturers, and promoting the acquisition of quality control examination certificates as well as implementing initiatives such as fieldwork for quality training participants from Group companies for a period of one or two years. At the same time, we are introducing "individual quality targets" and "quality model factory" systems aimed at raising quality awareness of all employees.
Topics
Publication of the Collected Basic Quality Action Points (Administrative Indirect Departments)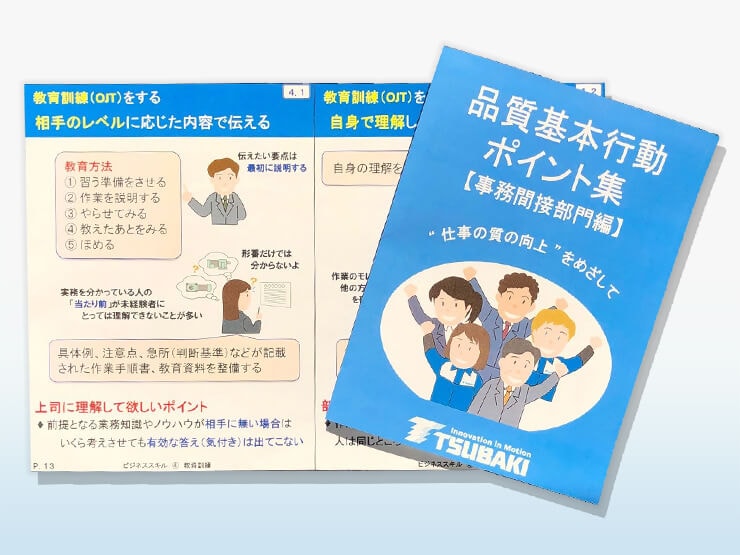 The Quality and Environmental Promotion Department has published the Collected Basic Quality Action Points (Administrative Indirect Departments) with the goal of improving the quality of operations in indirect departments. This publication describes key points to be observed in daily operations from a communication and business skills perspective for utilizing in situations where opinions are exchanged to help improve the quality of operations.

Received the 2020 Award for Outstanding Performance under the Toyota Quality Control Award from Toyota Motor Corporation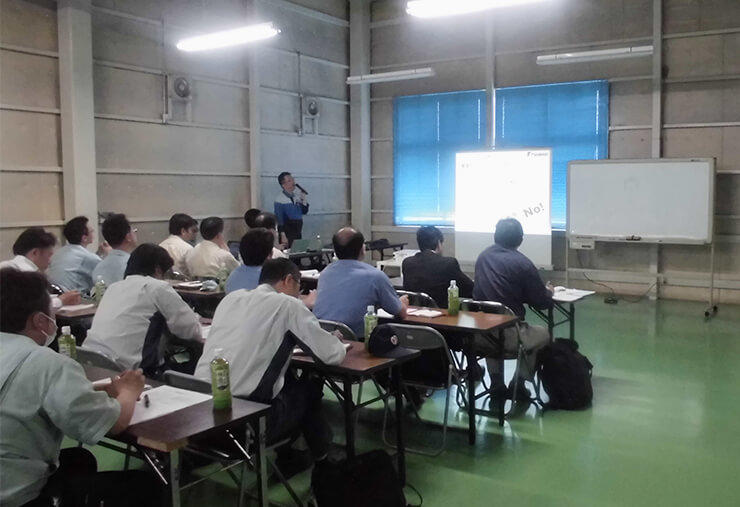 Our Mobility Division was awarded the 2020 Award for Outstanding Performance under the Toyota Quality Control Award from Toyota Motor Corporation. This award is presented to suppliers who have proactively promoted quality activities. Last year, we received the Award for Excellence, but this year's award is even more prestigious, and this is the first time it has been awarded to us.
At our Mobility Division, we hold regular training seminars for our business partners so that they can understand the impact that product defects have on other down-stream processes. We have been continuously carrying out this and other quality improvement activities targeting our business partners, and these activities have been met with high praise for greatly reducing product defects.
In order to allow for this same level of quality to be maintained and even improved upon going forward, both Tsubakimoto and our business partners will continue to work together to carry out quality improvement activities.
TAM's Acquisition of Ford Q1 Quality Management Certification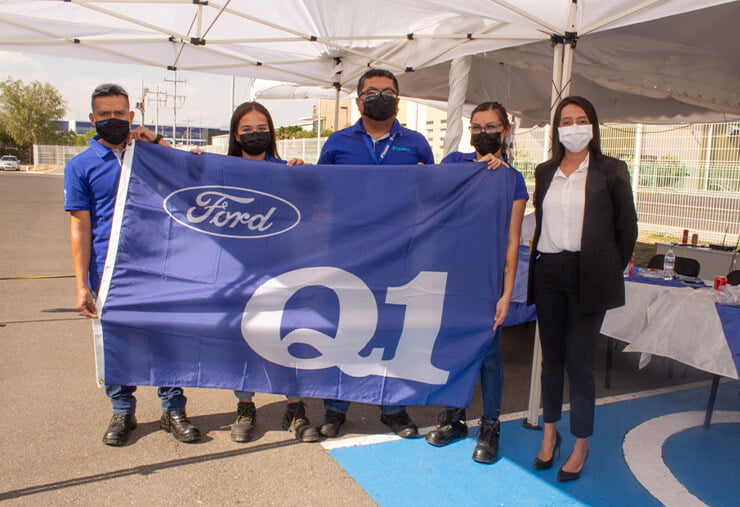 Tsubakimoto Automotive Mexico (hereinafter TAM) has received Ford Q1 Certification under Ford's quality management program. This system is intended to certify Ford suppliers based on Ford's assessment of whether these suppliers have developed a system of quality management that meets customer needs. Ford evaluated the quality level and production-planning processes of timing chain systems delivered by TAM as meeting the high standards of the automotive industry. Having received this Certification, we anticipate not only that the Ford Motor Company will consider us a supplier that they can rely upon, but also that it will become a major selling point when we make bids to supply products for new engine projects of other automobile manufacturers as well.
Tsubakimoto Automotive (Shanghai) Receives Awards for Quality from Two Chinese Toyota Companies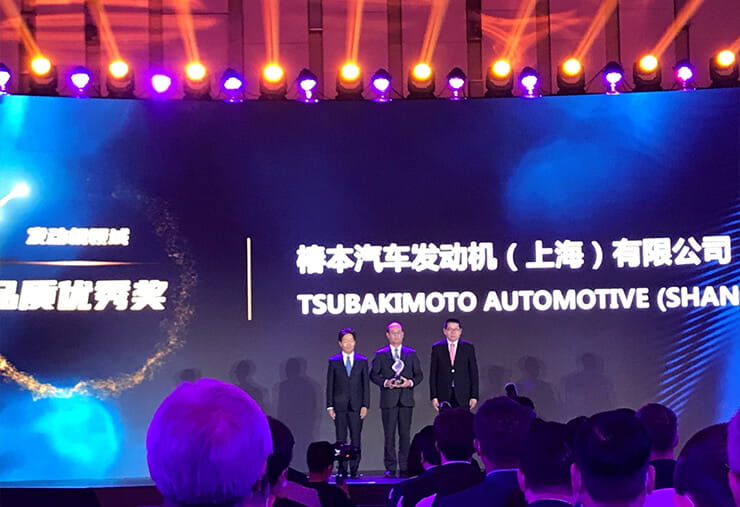 In 2020, under the shadow of Covid-19 pandemic, the Chinese market has been a difficult business environment. Amidst these circumstances, Tsubakimoto Automotive Shanghai (hereinafter TAS) was able to achieve an Excellent Quality Supplier Award, the highest award given in the quality category by Guangqi Toyota Engine Co., Ltd. (a member of the GAC Toyota Group), and the Excellent Quality Award from Tianjin FAW Toyota Motor Co., Ltd. These two awards were given in recognition of the high standard of our delivery and quality assurance infrastructures for automotive engine timing chain systems.
Going forward, we will continue to meet the demands for safety and QCDS in our production and supply of timing chain systems, and strive for ever greater customer satisfaction in the Chinese market.