Risk Management
Basic Concept
To continually maintain and develop our business, it is essential that we fulfill our social responsibility as a corporation while appropriately managing a host of risks that may arise in carrying out our business activities.
The Tsubaki Group has established a Risk Management Policy, under which it strives to prevent the actualization of risks and minimize possible losses by continually identifying and understanding risk factors regarding a host of risks that could significantly impact on management.
Risk Management Policy
Tsubakimoto Chain Co. and its group companies in both Japan and abroad have established the following principles to prevent potential risks that may have material adverse effects on the business management of the Tsubaki Group and to minimize damage if a risk does occur. The Tsubaki Group strives to become resilient to risks and to maintain the public trust and confidence that it has enjoyed.
1.We will identify, analyze, and assess risks associated with global business activities and take efficient and effective risk control measures. We will regularly monitor how the measures are being taken and make improvements where necessary.
2.We will have a risk management system in place and take continuous measures with a focus on risk prevention. We will ensure that the risk management system is well communicated throughout the Group and work as a team toward accomplishing a goal.
3.We will provide education and training to employees to raise their risk awareness and risk response skills so that risk management becomes a part of their routine.
4.In the event of disasters, accidents, or other emergency situations, we will promptly set up an emergency task force. With safety of life as the highest priority, we will work closely with the local community and take actions and conduct recovery operations promptly.
5.We will adapt risk control measures to best suit the specific requirements of the country or region.
Promotional System
The Tsubaki Group has established several committees regarding corporate ethics; information security; the environment; quality; health and safety; and compliance and crisis management under the supervision of the Sustainability Committee in order to promote effective and efficient risk management. These committees promote risk countermeasures on a Groupwide basis by coordinating among one another to advance various ongoing measures geared toward identifying and evaluating risk factors as well as preventing the actualization of these risks.
In addition, we have established and are operating an emergency contact system on a global basis in the event of risk materialization to minimize possible losses.
Principal Initiatives for FY 2021
The Tsubaki Group regularly assesses the status of risks associated with each of its constituent companies and the status of response measures regarding such risks. Our various committees focused on corporate ethics, information security, the environment, quality, occupational health and safety, and compliance and crisis management undertake specific risk management initiatives in each area according to these assessment criteria.
In FY 2021, we addressed three key risks common to the Group: information security, quality control, and human rights violations.
These activities are reported to the Sustainability Committee and necessary instructions are provided at appropriate intervals.
In light of the rapid spread of COVID-19 since 2020, we established our Emergency Response Headquarters in February 2020 under the leadership of the President and COO, based on the guidelines for countermeasures against new infectious diseases. Since then, we have taken various countermeasures, always keeping an eye on the changing circumstances and giving top priority to the safety and health of our customers, our employees and their families, and all other stakeholders. We are continuing to maintain a reduced rate of commuting to work, such as by means of encouraging employees to work from home, and we have otherwise been continuously working to stop the spread of the virus, including the introduction of vaccination leave.
Electronic Information Security
Amid the development of information technology and the growing importance of information assets, when a corporation enhances its information security it contributes to the maintenance of customer trust and the wider stability of society.
For this reason, in 2020, under our corporate philosophy Tsubaki Spirit, the Tsubaki Group established an Electronic Information Security Policy, to codify our policy for protecting all of the information assets we handle from a range of threats. This policy is shared throughout the entire Tsubaki Group in Japan and overseas.
Based on this policy, we will fulfill our responsibility to society by reducing information security risks, not only though technical measures, but also by the whole Group working on organizational measures such as education of employees, implementing risk assessment and systematic countermeasures, and periodic audits of information security.
Based on this policy, we will fulfill our responsibility to society by reducing information security risks, not only through technical measures, but also by the whole Group working on organizational measures such as education of employees, implementing risk assessment and systematic countermeasures, periodic audits of information security, and vulnerability assessments by a third-party organization.
Electronic Information Security Policy
Electronic Information Security System Chart

Strengthening endpoint security (EDR deployment)
In recent years, cyberattacks have become highly advanced and sophisticated. In addition to the conventional approach of ensuring 100% prevention of malware infection, countermeasures based on the assumption of intrusion and mechanisms to minimize damage have also become indispensable. Therefore, assuming a case of infection with malware, we are strengthening security measures using EDR*1 to supplement conventional EPP*2 measures (anti-virus products) and prevent critical situations from spreading. We have adopted the perspective of detecting and dealing with malware at an early stage to prevent spillover damage from information leaks.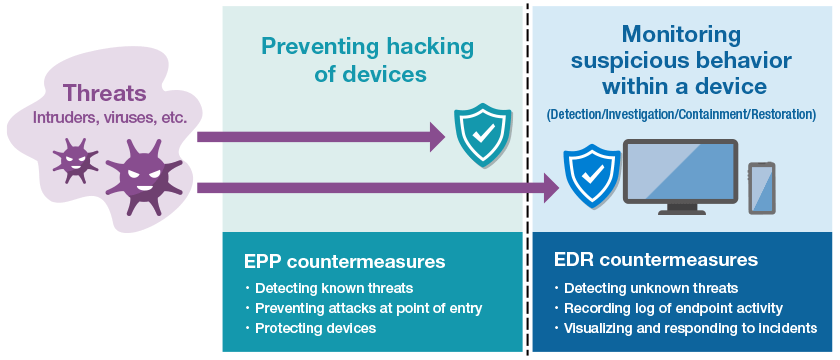 *1 EDR (Endpoint Detection and Response): A measure to prevent secondary disasters by monitoring security of endpoints, quickly notifying administrators when malware or abnormalities are detected, isolating malware that poses a threat, and understanding and analyzing infection routes when malware and threats have entered the system.
*2 EPP (Endpoint Protection Platform): A security measure to prevent endpoint threats and malware by positioning conventional business devices, such as PCs and smartphones, as endpoints.
Business Continuity Planning/Disaster Preparedness Initiatives
Natural disasters have become increasingly common in recent years, and large-scale disasters are predicted to occur in the years ahead. The Tsubaki Group has formulated a Basic BCP Strategy and is implementing a variety of disaster preparedness initiatives.
(BCP: Business Continuity Plan)
1)

Disaster preparedness drills

In order to raise awareness of disaster preparedness and ensure an initial response in the event of a disaster, we conduct evacuation drills at least once a year in principle at each business location. In addition, in preparation for all possible contingencies, we have been conducting evacuation and firefighting drills for night shift employees since FY 2021. We continue to work to increase the disaster-resilience of our businesses.
2)

Utilization of the safety confirmation system

In order to quickly confirm the safety of employees in the event of a serious disaster, such as an outbreak of an infectious disease, an earthquake, torrential rain, or a typhoon, we have introduced a safety confirmation system using smartphones and conduct regular drills. In addition, as one of our COVID-19 countermeasures, the entire company is working to avoid clusters of infections in the workplace by using this system to thoroughly manage and report employee health status during major holidays.
3)

Stockpiling of disaster preparedness and mitigation items

The Tsubaki Group distributes disaster response manuals and earthquake response cards so that all employees can act appropriately in the event of an earthquake.
We are stockpiling water, food, simple toilet liner bags, blankets, lanterns, etc. at each business site, in anticipation of difficulties in returning home in the event of a disaster. Major business sites are equipped with satellite phones to secure a means of communication in the event of a disaster.
④

Business continuity plan revision initiatives

In FY 2022, Tsubaki began revising its business continuity plans not only in-house but also at other Group companies in Japan to help strengthen the Group's BCP system.

Basic BCP Policy