Promoting Respect for Human Rights and Diversity in Hiring
Basic Concept
At the Tsubaki Group, we view human resources as the most vital component of our management base. We are establishing an environment where people from various backgrounds can work positively and vigorously, and striving to cultivate the human resources who will support business growth going forward.
Recognizing that respect for human rights is an important aspect of corporate social responsibility, the Tsubaki Group has established a Basic Human Rights Policy to promote and fulfill its responsibility to respect human rights throughout the entire Group. This policy, which will be thoroughly promulgated throughout all Tsubaki Group companies, is based on the United Nations Bill of International Human Rights, the International Labour Organization (ILO) Declaration on Fundamental Principles and Rights at Work, the Ten Principles of the United Nations Global Compact (UNGC), and the UN's Guiding Principles on Business and Human Rights.
Endorsement of the United Nations Global Compact
The Tsubaki Group supports and endorses the Ten Principles of the United Nations Global Compact (UNGC) in the four areas of human rights, labor, environment, and anti-corruption. The UNGC is a voluntary initiative that calls on participating companies and organizations to exercise responsible leadership as exceptional members of society in order to achieve sustainable social growth in cooperation with the United Nations. With this endorsement of the UNGC, we will be developing initiatives to enable us to realize these goals and contribute to the emergence of society committed to sustainability.
Endorsement of the United Nations Global Compact
Respect for Human Rights
To ensure that nobody involved in its businesses is subject to any form of discrimination or harassment that violates individual dignity including on the grounds of race, ethnic group, nationality, social status, origin, gender, disability, health status, thoughts and beliefs, sexual orientation, or difference of job type or employment status, the Tsubaki Group is implementing measures to enhance ethics awareness among employees.
We have designated February of every year as Corporate Ethics Awareness Month while conducting activities designed to promote strict adherence to laws and rules in the Group's countries of operation.
In 2020, we established our Basic Human Rights Policy with the recognition that respect for human rights is an important aspect of our corporate social responsibility. The entire Tsubaki Group is therefore promoting initiatives to uphold human rights and fulfill its responsibilities in this area. In FY 2021, we conducted a preliminary due-diligence survey on human rights at our affiliated companies outside Japan in order to confirm that no major human rights concerns had arisen at any affiliated company. We also conducted interviews on the status of their human rights initiatives.
Moreover, with the establishment of our Corporate Ethics Hotline and the assignment of employees to engage in consultations on any topic, we are capable of handling not only risks related to compliance with laws and regulations but also routine matters. We will continue to advance the development of a positive work environment.
Basic Human Rights Policy
Promotion of Diversity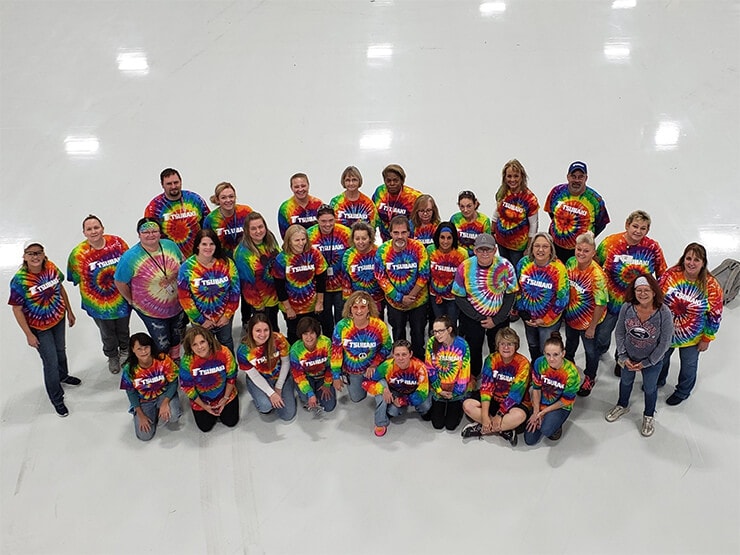 The Tsubaki Group strives to promote personnel system reforms with a focus on diversity and based on the Group's traditional work-focused emphasis on capabilities and results. Since launching an initiative in the fiscal year ended March 31, 2019, Tsubakimoto Chain has also been promoting work-style reforms that enable our diverse employees to fully demonstrate their individual talents. In addition to implementing a wide range of measures to support efficient and flexible work styles, the Tsubaki Group remains dedicated to developing a workplace environment where a variety of people can work positively and vigorously and with peace of mind while being fairly evaluated without regard to nationality, gender, or age.
As part of these measures, we have expanded opportunities for employees to telecommute from the head office and branch offices to each plant. We are continuing to review the office layout to improve both communication and work efficiency by introducing a "free address" unassigned seating system, creating a more casual atmosphere in meeting spaces, and renovating our refresh spaces to provide a "glamping" experience.
Our Labor/Management Joint Committee is collaborating to implement initiatives to reduce excessively long work hours and promote the utilization of paid vacation time.

Composition of Employees by Region


(as of March 31, 2022)

Ratio of Paid Leave Acquisition

(Tsubakimoto Chain, non-consolidated)
(1) Active Participation of Women
At Tsubakimoto Chain, at an early stage we made the wages of men and women equal, and we have put in place a human resources system where women can comfortably continue to work even during life events such as pregnancy and childbirth.
We are also working to create workplaces where women can work to the fullest of their abilities. We aim to increase the percentage of women at the company from 8.9% (as of April 1, 2022) to 10% by the end of FY 2020. Toward this goal, we are actively encouraging applications from various high schools and universities. At the same time, we are enabling women to deepen their understanding of our work environment through efforts that include women introducing their jobs at explanatory meetings. In addition, we are advancing the promotion of women by proactively providing opportunities for promotion to outstanding employees, irrespective of gender.

Moreover, by creating an environment where it is easy to take childcare leave and by promoting work-style reforms, we saw an upswing in the number of male employees taking childcare leave in FY 2019. This level has been maintained since then. In the past two years, the rate of return to work after taking maternity/childcare leave has been 100%, clearly indicating that we have succeeded in creating a workplace environment that facilitates women returning to work after giving birth.
Number of Women in Managerial Roles / Ratio of Women in Senior Roles

(Domestic)

Number of Employees Who Acquired Childcare Leave

(Tsubakimoto Chain, non-consolidated)

| | FY 2017 | FY 2018 | FY 2019 | FY 2020 | FY 2021 |
| --- | --- | --- | --- | --- | --- |
| Women | 6 | 7 | 1 | 5 | 1 |
| Men | 1 | - | 5 | 4 | 5 |
(2) Promotion of the Employment of People with Disabilities
Here at the Tsubaki Group, we are striving to expand employment of people with disabilities in a wide range of fields (including manufacturing worksites, administrative work, and health management) by developing a workplace environment that allows them to engage in work that utilizes their individual talents and aptitudes. In FY 2020, we established a special subsidiary that succeeded in promoting further employment to ensure legally compliant employment rates at Tsubakimoto Chain.
An Outline of Our Special Subsidiary (Tsubaki Support Center Co.)
Tsubaki Support Center is a Tsubakimoto Chain subsidiary that was established primarily to handle welfare and outsourced operations. In FY 2020, it was certified as a special subsidiary of Tsubakimoto Chain, and initiated business services by persons with disabilities. The company provides a comfortable working environment and jobs that allow each individual to play an active role according to his or her abilities and talents. It also has a support system in place that allows each employee to demonstrate his or her abilities. (Currently employs eight trainers and six disability vocation and lifestyle counselors.)
Their current duties include printing, scanning, and tidying up. In our cleaning operations, we have invited outside instructors to help workers improve their skills with the goal of competing in the Abilympics regional competition. In the future, we intend to expand into the services sector. By proactively employing people with disabilities, we are fulfilling our responsibility to society.
* Abilympics: A competition in which people with disabilities compete with the skills they have developed on a daily basis
Ratio of employees with disabilities
(3) Active Participation of Seniors
On April 1, 2020, Tsubakimoto Chain introduced an Age 65 Retirement System, extending the retirement age for Tsubakimoto Chain employees from 60 to 65 years old. The company introduced an age 60 retirement system in 1946, soon after the end of World War II, we introduced a progressive a reemployment system in 1991, in which the age of 65 is the upper limit, and a system in 2003, in which all people who wish to work for general jobs can do so until the age of 65. In 2016, we worked to expand employment opportunities up to the age of 70, creating an environment in which many seniors can continue to work to the full potential of their abilities if they so desire.
Amid a decline in the working population due to falling birthrates and an aging society, we have introduced this extension of the retirement age as part of our efforts to develop a rewarding environment in which diverse human resources can actively participate, rather than simply as a response to the labor shortage. We have also improved employment conditions and continuously applied the benefits provided to employees before age 60. The aim is to enhance the sense of solidarity of all employees and lead them to the full use of our comprehensive capabilities by raising awareness as core personnel and creating an environment in which senior employees can work more vigorously by making use of their knowledge, skills, and abundant experience accumulated over many years.
With the introduction of a new retirement age of 65, we have also improved our treatment of older employees. As a result, we have maintained a rate of continuous employment of around 90% since the introduction of the system.
We also enhanced our career training program for employees at the age of 50. The content has been revised to encourage people to maintain their desire to work and to continue learning until age 65, and we also provide support by raising awareness of the opportunities available.
Topics: Tsubaki Maternity and Childcare Leave Handbook Published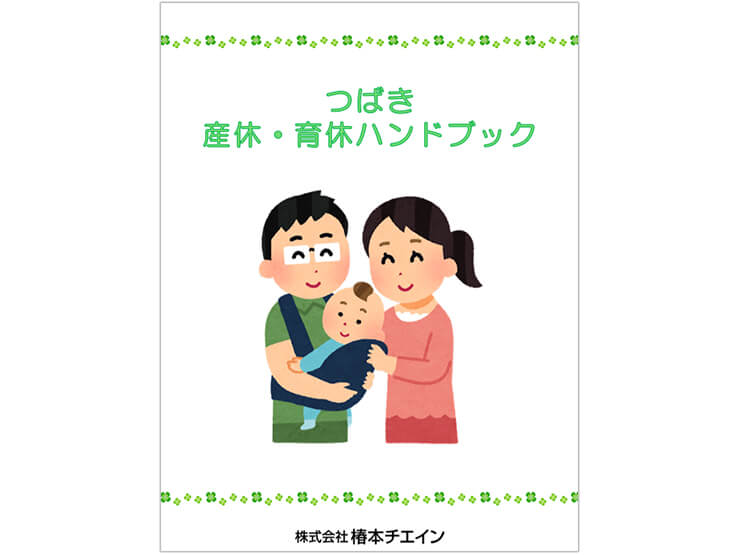 The Human Resources Department has published the Maternity and Childcare Leave Handbook to ensure that the maternity and childcare leave systems are properly understood and widely utilized. The handbook provides the details of the system, explains how to apply, includes a FAQ on maternity and childcare leave, and outlines the schedule until the employee begins returning to work. In the past three years, nine male employees have taken childcare leave of at least one month, and in March, at the request of a female employees, a workplace orientation session was held. The system was introduced with input from those who have experience from taking childcare leave.
Having a variety of people taking childcare leave is expected to promote a review of work procedures and work styles. It will also encourage mutually supportive relationships within the workplace. We are committed to creating a vibrant workplace where a diverse workforce can play an active role.