Promoting Respect for Human Rights and Diversity in Hiring
Basic Concept
At the Tsubaki Group, we view human resources as the most vital component of our management base. We are establishing an environment where people from various backgrounds can work positively and vigorously while striving to cultivate the human resources who will support business growth going forward.
Respect for Human Rights
To ensure that nobody involved in its businesses is subject to any form of discrimination or harassment that violates individual dignity including on the grounds of race, ethnicity group, nationality, social status, origin, gender, disability, health status, thoughts and beliefs, sexual orientation, or difference of job type or employment status, the Tsubaki Group is implementing measures to enhance ethical awareness among employees.
We have designated February of every year as Corporate Ethics Awareness Month while conducting activities designed to promote strict adherence to laws and rules in the Group's countries of operation (51 Group companies in Japan and overseas took part in these activities in the fiscal year ended March 31, 2020). At the same time, we have codified a Basic Human Rights Policy that applies to the Tsubaki Group, and are promoting initiatives on respect for human rights throughout the Group as a whole.
In addition, we have established the Corporate Ethics Hotline, to which we have appointed an employee to be in charge of consultations on any topic. The hotline handles not only risk matters regarding laws and regulations and compliance but also routine matters, as we advance the development of a comfortable working environment.
Basic Human Rights Policy
Promotion of Diversity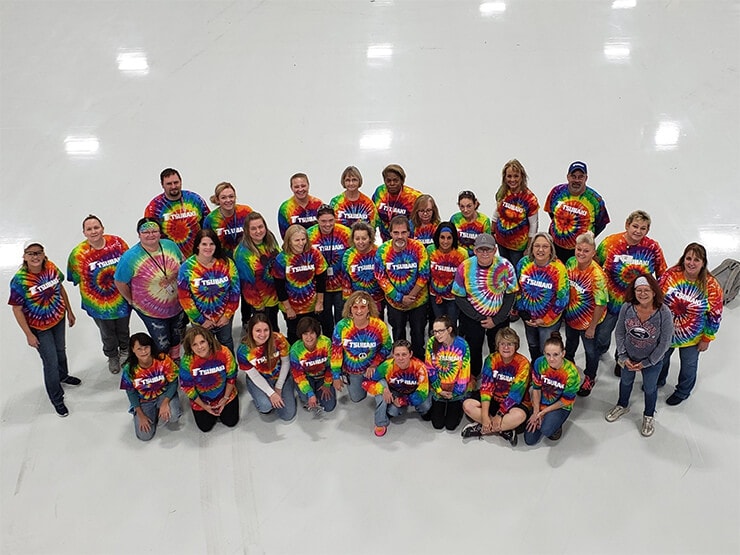 The Tsubaki Group is working to develop a workplace environment where a variety of people can work positively and vigorously and with peace of mind while being fairly evaluated without regard to nationality, gender, or age. Based on our traditional work-focused emphasis on capabilities and results, we are promoting personnel system reforms focusing on diversity. Tsubakimoto Chain has been promoting work style reforms since the fiscal year ended March 31, 2019 to enable diverse employees to fully realize their individual talent. We are carrying out a range of measures for realizing efficient and flexible work styles.

Composition of Employees by Region


(as of March 31, 2020)

Ratio of Paid Leave Acquisition

(Tsubakimoto Chain, non-consolidated)
(1) Active Participation of Women
Quitting due to marriage, pregnancy, or childbirth is a thing of the past. At Tsubakimoto Chain, at an early stage we made the wages of men and women equal, and we have put in place a human resources system where women can comfortably continue to work even during life events such as pregnancy and childbirth.
We are also working to create workplaces where women can work to the fullest of their abilities. We aim to increase the percentage of female employees at the company from 8.9% (as of April 1st, 2020) to 10% by the end of FY 2020. Toward this goal, we are actively encouraging applications from various high schools and universities. At the same time, we are enabling women to deepen their understanding of our work environment through efforts that include female employees introducing their jobs at explanatory meetings. In addition, we are advancing the promotion of female employees by proactively providing opportunities for promotion to outstanding employees, irrespective of gender.
Ratio of Female Employees in Senior Roles and Number of Female Employees in Managerial Roles


(Japan)

Number of Employees Who Acquired Childcare Leave

(Tsubakimoto Chain, non-consolidated)

| | FY 2015 | FY 2016 | FY 2017 | FY 2018 | FY 2019 |
| --- | --- | --- | --- | --- | --- |
| Female | 2 | 7 | 6 | 7 | 1 |
| Male | 1 | - | 1 | - | 5 |
(2) Promotion of the Employment of People with Disabilities
Here at the Tsubaki Group, we are striving to expand employment of people with disabilities in a wide range of fields (including manufacturing worksites, administrative work, and health management) by developing a workplace environment that allows them to engage in work that utilizes their individual talents and aptitudes. In FY 2020, we established a special subsidiary with the goal of promoting further employment to ensure legally compliant employment rates at Tsubakimoto Chain.
(3) Active Participation of Seniors
On April 1, 2020, Tsubakimoto Chain introduced an Age 65 Retirement System, extending the retirement age for Tsubakimoto Chain employees from 60 to 65 years old. Since the introduction of the age 60 retirement system in 1946, soon after the end of World War II, we have been working ahead of others in the world by introducing a reemployment system in 1991, in which the age of 65 is the upper limit, and a system in 2003, in which all people who wish to work for general jobs can do so until the age of 65. In 2016, we worked to expand employment opportunities up to the age of 70, creating an environment in which many seniors can continue to work to the full potential of their abilities if they so desire.
Amid a decline in the working population due to falling birthrates and an aging society, we have introduced this extension of the retirement age as part of our efforts to develop a rewarding environment in which diverse human resources can actively participate, rather than simply as a response to the labor shortage. We have also improved employment conditions and continuously applied the benefits provided to employees before age 60. The aim is to enhance the sense of solidarity of all employees and lead them to the full use of our comprehensive capabilities by raising awareness as core personnel and creating an environment in which senior employees can work more vigorously by making use of their knowledge, skills, and abundant experience accumulated over many years.