Occupational Safety and Health Promotion
Basic Concept
Under its corporate philosophy, the "Tsubaki Spirit", the Tsubaki Group has adopted safety and quality as its highest priorities in its Code of Conduct, and works to prevent work-related accidents and maintain and enhance the health of its employees as a Monozukuri company guided by its Basic Safety Policy. In February 2009, the Group established the Tsubaki Group Health and Safety Committee, which advances activities aimed at enhancing health and safety throughout the Group.
The Tsubaki Group Basic Health and Safety Policies
Safety takes place above all else as we strive to create a safe work environment.
Creating a Safe Workplace, Safe Manufacturing, and a Highly Skilled Workforce
Safety Management System
The Group has established the Tsubaki Group Health and Safety Committee to supervise health and safety activities for the Group as a whole. The committee formulates the Health and Safety Activities Plan and confirms the progress status of safety activities at each business site.
We promote ongoing safety activities based on the following three pillars.
(1)Risk management: Promotion of risk assessment activities to prevent serious accidents

(2)Equipment and work environment maintenance: Development and implementation of machinery and equipment safety guidelines that aim to realize the fundamental safety of machinery

(3)Employee development: Cultivation of safety-oriented personnel who understand and follow basic safety protocol at all times
Occupational Safety and Health Initiatives
In February 2020, the Tsubaki Group Health and Safety Committee established a Basic Health and Safety Policy and Health and Safety Management Regulations to promote health and safety activities throughout the entire group. In FY 2020 we began to disseminate the Basic Health and Safety Policy within the Tsubaki Group. We also began operating the Health and Safety Management Regulations that form the basis of our health and safety management system. Specifically, the Basic Policy aims for:
Creation of a safe workplace
—Focusing on serious accidents and promoting risk assessment and activities for preemptively avoiding serious accidents
Safe manufacturing
—Promulgating equipment safety guidelines
Training better workers
—Producing and promulgating a Safe-Person Manual, and strengthening safety education for training Safe-Person
Versions of the Basic Health and Safety Policy have also been produced in English, Chinese, Thai, and Spanish, allowing it to be thoroughly understood on a global basis.
Revision of the Basic Health and Safety Policy and the Health and Safety Management Regulations
The Tsubaki Group had established a Health and Safety Philosophy and a Basic Health and Safety Policy, but it integrated and revised them into a new Basic Health and Safety Policy, which is simple and easy to understand. Further, although health and safety activities were being carried out at each workplace, the Group's policies, objectives, and operational details of its plans had not been collected in one place, and so took the occasion to put them down in writing as Health and Safety Management Regulations. This has created the foundation for the Tsubaki Group's health and safety management system, enabling the systematic follow-up and checking of activities.
Global Expansion
In the fiscal year ended March 31, 2020, we began determining the number of accidents at our global bases and sharing examples of accidents and best practices as part of our global occupational health and safety activities. Guided by the basic approach that safety is the top priority, we launched global occupational health and safety activities with the aim of eliminating accidents globally, despite the difficulties of different laws at different bases.
Principal Initiatives for FY 2021
The Group carried out health and safety initiatives in the fiscal year ended March 31, 2022, with initiatives for preemptively avoiding serious accidents continuing to be one of its highest priorities. In FY 2021, we published our machinery and equipment safety guidelines. Even at the planning stage of equipment installation, our on-site workers, production engineers, and safety personnel conduct regular safety checks with the aim of ensuring all machinery and equipment is inherently safe.
Because serious accidents tend to occur when humans interact with machinery, we have also published a Safe-Person Manual with the aim of developing safety-minded employees. This publication includes an analysis of past accidents that have occurred at the Tsubaki Group, defining those operations associated with the most accidents as "Tsubaki STOP 9." It also provides a summary of the knowledge and actions to be taken to prevent any recurrence. In the future, we will publicize our Safe-Person Manual among all employees in order to strengthen the human aspect of safety.
Promotion of Health and Productivity Management
The Tsubaki Group's health promotion initiatives are grounded in the recognition that people are the foundation of management. In August 2022, we adopted our Health Declaration and Basic Health Policy in order to underpin our efforts as a result of changes in the internal and external environments. With the goal of offering our employees the opportunity to play active roles and demonstrate their independence and creativity (all employees enjoy working), we are promoting health management that includes employees' families. We approach this topic from two perspectives: healthy individuals and a healthful organization.
Tsubaki Group Health Declaration
The Tsubaki Group's social mission is to drive the evolution of "the art of moving" and exceed the expectations of society. We believe that the most effective approach for achieving this is to build a foundation for the good mental and physical health of employees and to develop a workplace full of vitality.
Building on our commitment to demonstrating our respect for people as embodied in our founding spirit, we are encouraging everyone in our company — our health insurance society, labor union, and employees and their families — to collaborate in this health promotion effort. We want all our employees to play active roles and fully demonstrate both independence and creativity.
Tsubakimoto Chain, Co.
Takatoshi Kimura, President and Representative Director
Basic Health Promotion Policy
We are implementing initiatives to promote the health of our employees as well as that of their families by adopting the following terms of our policy.
We will promote health from two perspectives: supporting the health of individuals and building a healthful organization.
We will promote the health of individuals by focusing on both their physical and mental health.
We will promote a healthful organization through workplace improvement initiatives while encouraging communication through a company-wide focus on workplace activities.
We will strengthen illness prevention measures as well as follow-up measures.
We will develop a health management system while striving for continuous improvement.
Health Promotion System (Healthy Individuals)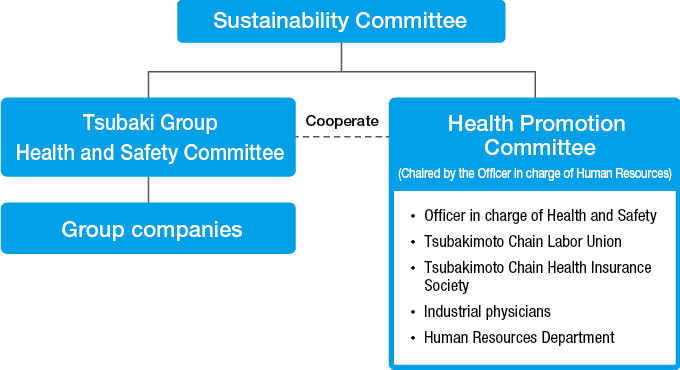 * The promotion of a healthful organization will be focused on reviewing personnel measures, strengthening workplace management with an emphasis on communication, and enhancing collaboration between labor and management.
Promotion of Health and Productivity Management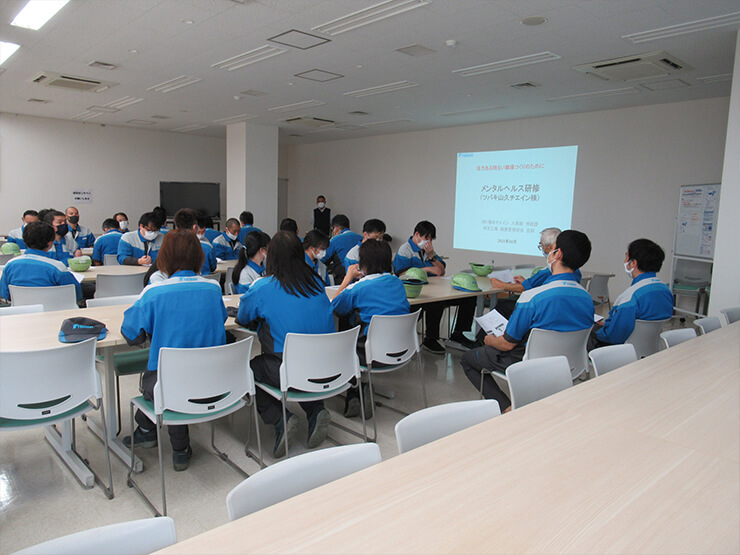 Maintenance and improvement of health is the driving force that enables employees to work positively and vigorously.
To promote health, we implement regular health checkups and special health examinations as well as health checks in collaboration with industrial physicians, health management staff, and managers for employees who work long hours to prevent disease and strengthen early detection activities.
To support mental health, we regularly implement education on mental health for employees and supervisors. We have strengthened initiatives toward disease prevention and early treatment by establishing a consultation service staffed by internal industrial counselors and other staff. In the fiscal year ended March 31, 2017, we launched a stress check for all employees of Tsubaki Group companies in Japan. We are also expanding and improving mental healthcare activities such as conducting follow-up meetings with employees not only when they join the company but also in their third year of employment.
Beginning in the fiscal year ended March 31, 2021, we implemented a mental health support program for employees stationed overseas and their families, and we have established a system where they can easily consult with us regarding any concerns or worries about living abroad.